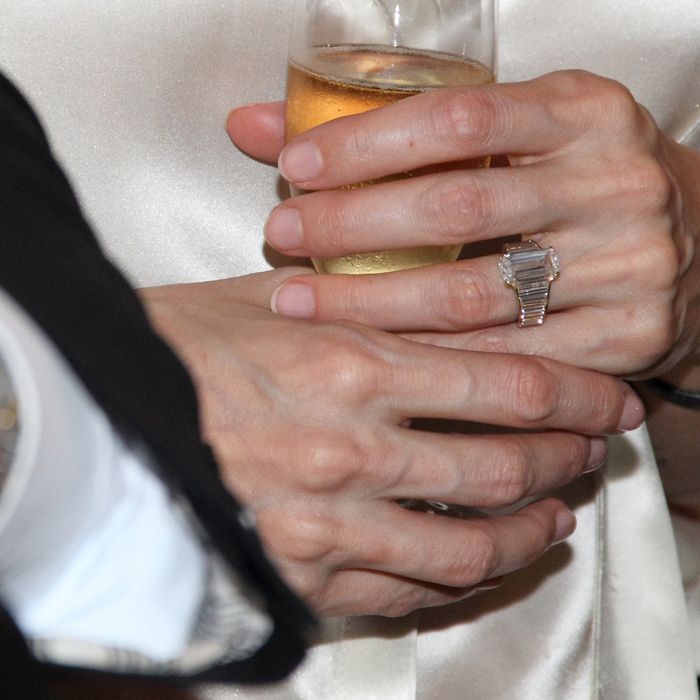 Angelina Jolie's ring!
Photo: Howard Pasamanick/Newscom
Congratulations to Angelina's left ring finger, which on Friday became the actress's most celebrated appendage (no small feat, considering its competition). Of course, the finger had a lot of help in its rise to stardom, mainly in the form of a big, sparkly engagement ring. And although you might think you don't care about the ring, you probably do deep down, so here are all the details.
The ring was designed by jeweler Robert Procop, the former CEO of Asprey who has collaborated with Jolie on two previous jewelry collections to benefit her charity (a capsule collection for Asprey in 2009 and one for his private clients in 2010). A spokesperson for Procop tells WWD that Brad Pitt contacted him over a year ago, and they've since been working on Angelina's ring this whole time, those sneaky devils. WWD reports:
After Procop sourced the diamond, he then worked to Pitt's designs to fashion it into a faceted, elongated tablet shape to suit Jolie's hand. The diamond is set in the ring amid smaller faceted stones graduated in size.
So, mazel to them, and perhaps tablet-shaped diamonds will be the 2012 version of Kate's giant sapphire! Surely QVC is already on top of this.