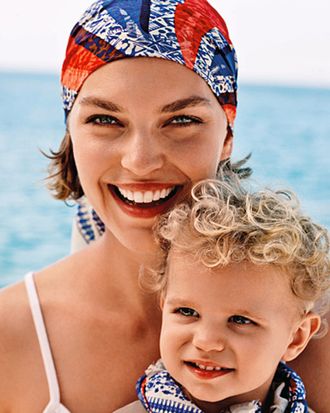 Arizona and her three-year-old son, Nikko.
Photo: Courtesy of Next
Everyone loves that Arizona Muse was a mom before she became a famous model. It's definitely unusual: While plenty of models have kids, most establish themselves first. But in Arizona's case, her motherhood might have even helped her career. Not only does it make her more relatable and mature (Anna Wintour called her a "gorgeous, smart grown-up" in her February 2011 editor's letter), but her adorable, curly headed toddler Nikko photographs beautifully. He appeared in Arizona's Vogue spread last year, as well as her shoot for J.Crew last April, and her new campaign for British label Next (shown). Now Muse tells the Telegraph that having a child helped get her body in shape for modeling. And by "in shape," she means thinner:
I think my body was better after I had a child, actually … I prefer my body now to what it was like before I had Nikko — although I exercise now and I didn't then. I remember my mom saying that after you have a baby you get really thin. So you gain all that weight and then you just lose it and keep losing it. You're breastfeeding and you're busy and you're tired … so that helped.
Which isn't to say she didn't gain weight during her pregnancy (who do you think she is, Gisele?):
At first I was like, "I'm going to be fat for ever!" I think we all feel that way after we have a baby.

I threw away so many clothes thinking that it would be so depressing having them sitting in my drawer when they're never going to fit me. I got rid of my favourite pair of jeans, which of course would fit me now. You just have to give your body time. You can't have a three-month-old baby and think, "That's it for me." I tell mothers that you have to wait a whole year before you start judging your body, before you start working on it. Just give yourself a whole year of rest.
Muse does say that she "would not recommend" having a child before getting one's career in order and admits that it has been difficult; she chose not to travel for jobs when Nikko was a baby. However, she says it's nice when it comes to interviews because people ask her about motherhood instead of silly fluff questions. Like, you know, what about her dating Freja Beha Erichsen? The article makes no mention of it.