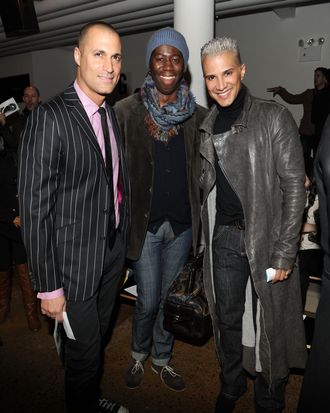 Three men stand before me, but I only have zero photos in my hands.
Photo: Craig Barritt/Getty Images
It seems that the only conflict during this season's Top Model wasn't amongst the booty-tooching U.S. and U.K. contestants. Page Six reports that, ahead of cycle 6,452 19 of the show, Tyra Banks refused to renew her three co-stars' contracts. Said executive producer Ken Mok in a statement:
Nigel Barker, Jay Manuel and J. Alexander have been an integral part of the 'America's Next Top Model' brand and they helped turn this show into the household name it is today. They have been amazing assets to the show and will always be a part of the 'Top Model' family. We will continue to actively work with each of them on future projects.
Manuel confirmed the news on his blog today with a post entitled "It's a Wrap Everybody." He thanked all of his fans, writing: "From the first cycle you embraced us and nine years later, we still feel that love. I've truly been blessed to work on a show that was recognized and loved around the world.  I'll take with me memories and lessons that will last a lifetime."
So, who will be taking over for the trio? Sources say producers might be in talks with Bryanboy. So far, he hasn't commented on the speculation, only retweeting the following from a Mashable journalist: "Asked CW if @bryanboy is joining America's Next Top Model cast. CW: 'We are not discussing any additional changes at this time.'"
Update: Barker told E! News that the shake up didn't come as a shock.
I'm friends with Tyra and the producers. There had been a discussion that ratings were down and that something like this would happen … There had been previous years where discussions about me being eliminated from the show had happened and I had actually survived the chopping block before.
Well then, Nigel. Or, well-played.