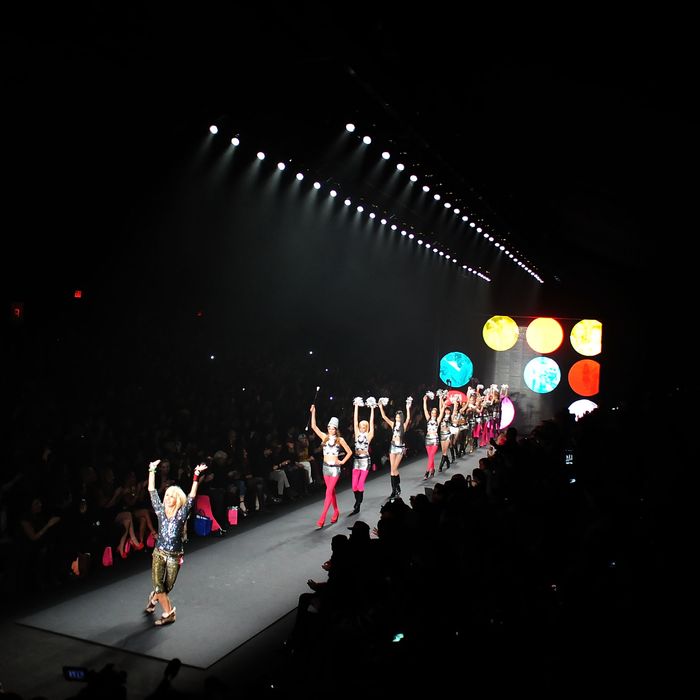 Betsey Johnson.
Photo: Karl Walter/2012 Getty Images
Sad news: Betsey Johnson LLC has filed for Chapter 11 bankruptcy and will close the majority of its 63 stores, according to WWD. Betsey Johnson the person will remain at the helm of the brand, which is still owned by Castanea Partners, a Boston-based private equity firm that took over the company in 2007. Moving forward, the label will focus on its lower-priced range of clothing, which is sold at Macy's and other mass retailers. Meanwhile, Steven Madden, Ltd., which has owned all of Betsey Johnson's intellectual property since assuming her $48.8 million in outstanding debts in 2010, estimated that the bankruptcy will cost about 350 jobs overall. Steve Madden himself assures WWD that there won't be any interruption in wholesale deliveries or e-commerce.
This development isn't a huge surprise (the Betsey Johnson brand has wallowed in debt for years), but it's really too bad. Johnson's wacky fashion shows — which she always concludes with her trademark cartwheel — are always a highlight at fashion week, and she's a beloved character in the New York fashion industry. Best of luck to her and her employees.