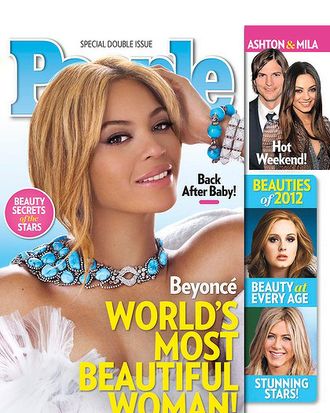 Beyonce's "World's Most Beautiful Woman" cover.
People's "World's Most Beautiful Woman" issue is trickling onto newsstands, and it contains lots of revelatory information about Beyoncé's life post-baby. Like: She still wears lip gloss! And watches Game of Thrones on Sundays! Of course, there's the requisite fawning over how quickly she shed her pregnancy weight: The 50 pounds she gained are almost all gone thanks to a spartan diet of egg whites, protein shakes, fruit, and yellowtail tuna sashimi (although sometimes she gets crazy and has pepperoni pizza and a glass of red wine). "I'm proud that my waist came back so fast," she says humbly. But! For all you people who think Beyoncé's post-pregnancy struggles were limited to exercising away any lingering belly rolls, guess again. Apparently motherhood has wreaked havoc on unexpected parts of her physique. She explains:
My toes and my feet are a lot rougher since I've become a mom! 
Yes, folks, Beyoncé's feet are not as nice as they used to be. More on that topic:
I never thought there would be a day when I wouldn't wear heels, but now that I have a child and I walk around holding her all day, I'm buying loafers and oxfords. I love them because they're comfortable. And shorter heels too. I'd always thought, "The higher the heel, the sexier." But now I'm like, "These are really sexy!" … [Jay-Z] loves when I wear flat shoes, which is surprising — he never saw me in flats [before]! 
No, really, he didn't. She even wore heels to the hospital to give birth.
I tried my best to roller-set my hair, and I wore my gloss when I arrived at the hospital. I committed to the end and wore my kitten heels. 
Well Bey, congrats to you and your freshly calloused, newly horizontal feet (which are probably still perfect)! You can read the full interview in the new issue of People, which has more fascinating information about her eating, exercise, and beauty regimens.