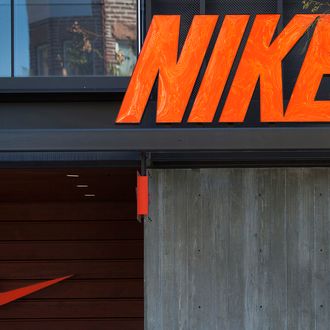 Nike Inc. signage is displayed outside of a store at the Third Street Promenade outdoor mall in Santa Monica, California, U.S, on Monday, Dec. 5, 2011. Since the Federal Reserve's last meeting early in November, reports on employment, manufacturing and retail sales have dispelled concerns the world's largest economy may slide back into recession.
Photo: Konrad Fiedler/Bloomberg via Getty Images
Mu Sochua, who WWD says is "arguably Cambodia's most prominent female parliamentarian," called for a Nike boycott after two mass fainting incidents at a garment factory that makes apparel for the brand. Sochua said the episodes point to "economic exploitation on the back of workers" — a total of 970 workers have already gotten sick at various Cambodian clothing factories since January. For its part, Nike has sent in a sustainable manufacturing team to conduct an investigation.