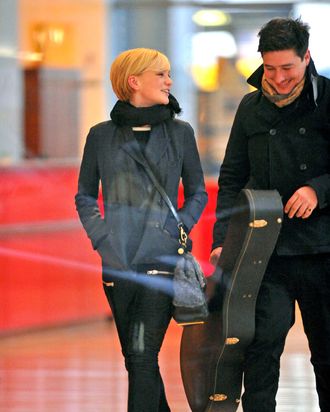 Carey Mulligan and Marcus Mumford.
Photo: PacificCoastNews.com
Actress Carey Mulligan married musician Marcus Mumford, of the band Mumford & Sons, at a farm in the English countryside over the weekend. Very few details about the wedding are known so far, but British Vogue reports the following rumors:

• The dress was ivory-colored, and designed by Prada.*
• Fancy guests included Colin and Livia Firth, Jake Gyllenhaal, and Sienna Miller.
• Adele performed at the wedding reception.
• Colin Firth gave a nice speech.
• Mumford's father, who is a vicar, officiated the ceremony.
Mulligan and Mumford, in addition to having the two most adorably British-sounding surnames possible (really, they should open a bakery or a jam shop or something, just to name it after themselves), knew each other as children through church. They got engaged in August 2011 after five months of dating. Chances are we'll get to see a nice big feature on their wedding in Vogue sometime in the next few months.
* Contrary to earlier reports, which said her dress was Versace.