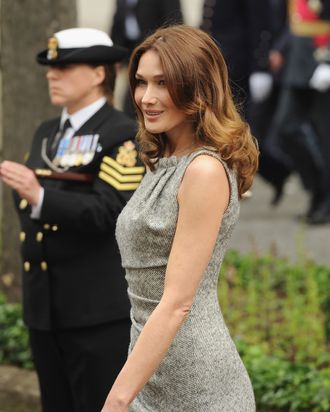 Carla Bruni.
Photo: Ian Gavan/Getty Images
When Michelle Obama turned up at Target last September, she wore a baseball hat and sunglasses to blend in. You know, to potentially go incognit-O. But that's not how the French do it! Non, non, non. In an interview with Le Nouvel Observateur, Carla Bruni discusses whether her role as First Lady of France has been draining, and drops details about the disguise she puts on when she wants to go unnoticed in public:
Since the age of 20, I've separated myself from my public image. It also helped a great deal to have been a model and singer. If I hadn't had experience with the media, it would have been more difficult. Fame doesn't weigh me down, and, anyway, I disguise myself literally and figuratively. With a wig on, nobody recognizes me on the metro. Recently, my bag was still searched at the Marine Museum.
Carla later likens herself to Lady Gaga — no, not because of her wigging out (though, how vie-changing would it be to spot Bruni on the Ligne 6 nonchalantly wearing a Gaga-esque hair bow?) — because of her experience dealing with the media, as compared to that of former French first lady Mrs. Pompidou. Carla also goes on to admit that she's oftentimes unable to advise her husband Nicolas on his policies: "I pity him, he fell for the most apolitical animal of all!" The conversation ends with the reporter telling Carla, "You admirably play the ravishing idiot."* Hold up — don't burn those bridges, Nouvel Obs. Print some photos of her and the wig first. Pics or it didn't happen, etc.
* Une Ravissante Idiote (A Ravishing Idiot) also happens to be the name of a 1964 movie starring Brigitte Bardot.