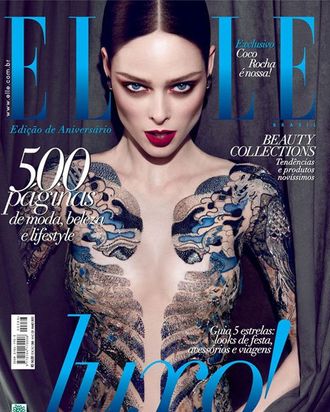 It goes without saying that one of the perils of a photo shoot is that even the model doesn't know how it will turn out. Coco Rocha, for example, was none-too-pleased with her recent Elle Brazil cover, writing on her Tumblr, "I have long had a policy of no nudity or partial nudity," explaining that she was digitally made to appear nude underneath her outfit.
I wore a body suit under a sheer dress which I now find was photoshopped out to give the impression of me showing much more skin than I was, or am comfortable with. This was specifically against my expressed verbal and written direction to the entire team that they not do so.
She concludes, "I strongly believe every model has a right to set rules for how she is portrayed," saying Elle Brazil sidestepped hers. And she's right: Boundaries shouldn't be lost in translation.