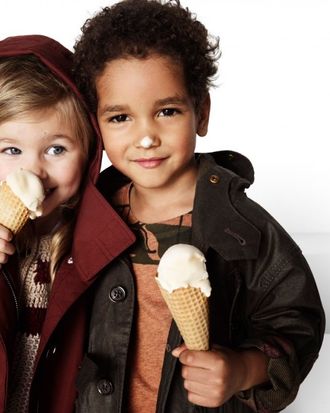 Burberry's kids' campaign.
Photo: Burberry
Pricey designer kids' clothes are ridiculous for many obvious reasons (who would spend more than $1,000 on something that might get pooped on, or worse?), but it's a rapidly growing industry regardless. According to today's Times, last year Burberry sold $91 million in children's clothing, up 23 percent from the previous year; meanwhile, lots of luxury brands like Oscar de la Renta, Lanvin, and Fendi have recently launched kids' lines. 
Mini versions of anything — shoes, clothes, dogs, purses, furniture — are always irresistible, so it makes sense that people with money to burn would want baby-sized duplicates of their own designer clothing. But according to the Times, a lot of these pieces aren't even made very well. According to children's wear designer Rachel Riley, "Some of their fabrics are mediocre," and the clothes aren't tailored properly for kids' proportions. Also, is it even ethical to treat a child like a designer doll? The Times reports:
[Riley] remains fixed in her view that children should be children and not little brand ambassadors or, in the current parlance, "prostitots." She said: "I can't bear advertising on children. And why would a child need to have anything remotely sexy? To me, it's unethical."
If it's any comfort, the clothes will probably get too small or covered in ketchup before they can do much harm.