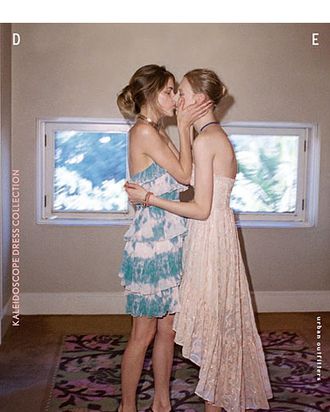 A "face holding embrace!"
Photo: Urban Outfitter
One Million Moms, the same anti-gay group that denounced JCPenney in February for appointing Ellen DeGeneres as their spokesperson, is now upset by a picture of two girls kissing that appears in the latest Urban Outfitters catalog. The "Current Issues" section of the group's website warns that this terribly dangerous piece of mail might be on your very doorstep!
The post reads:
Trash Your Teen's New Urban Outfitters Catalog Today!

WARNING! The April 2012 catalog from Urban Outfitters has begun arriving in home mailboxes the last couple of days. On page two of this catalog is a picture of two women kissing in a face holding embrace! The ad and catalog are clearly geared toward teenagers.

Before your child has a chance to read the newest Urban Outfitters catalog call to unsubscribe from their mailing list at 1-800-282-2200, and then throw it away. When you call be sure to let them know why you are unsubscribing. Tell them you will also no longer shop at their stores if you hear this type of advertising continues. The content is offensive and inappropriate for a teen who is the company's target customer.

TAKE ACTION

Please send an email letter urging Urban Outfitters to discontinue this ad and immediately stop the circulation of the catalog with the two women kissing or you will make a conscious effort to shop elsewhere. Also, suggest they refrain from using this type of advertising in the future. An apology statement from the company for sending an offensive catalog to people's homes would be appropriate and appreciated by customers and families as well.
Urban Outfitters hasn't issued a public response. Ironically, the company's president and CEO, Richard Hayne, is a known supporter of Rick Santorum and has been criticized for his conservative views before, namely when the retailer pulled a pro-gay-marriage T-shirt from their shelves in 2008.