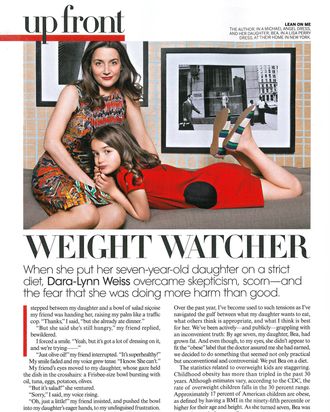 Dara-Lynn Weiss's Vogue article.
Photo: Christopher Katke/Vogue
Dara-Lynn Weiss's book publisher, Libby McGuire of Ballantine Bantam Dell, as well as her literary agent, David Kuhn, both agreed to be interviewed for Sunday's Times (Weiss herself declined). On a positive note, McGuire described Weiss's forthcoming book as a "memoir," which at least suggests that Weiss acknowledges that her story is more about herself than about her daughter (here's hoping). Otherwise, McGuire didn't say much:
Indeed there is a new and important category of parenting narratives that examines all aspects of raising children today, which is why we were early on so interested in talking with Dara-Lynn Weiss about her perspective, and ultimately acquired her memoir. Clearly her story and the issues she's exploring have resonated with so many people, and we look forward to publishing Weiss's book.
Basically, she might as well have been talking about a mother-daughter needlepoint manual. Luckily, Kuhn was more forthcoming:
Ms. Weiss's literary agent, David Kuhn, described her as solidly middle class (in Manhattan terms). She and her husband, who works for a nonprofit organization, live in a one-bedroom apartment in Manhattan with their two children (Bea has a younger brother, David), who attend public school.

Ms. Weiss is a part-time producer for Internet and television, Mr. Kuhn said, with a career that has included developing and producing content for the Web and print for employers like Time Inc., Warner Brothers, Condé Nast and AOL.

He acknowledged that Ms. Weiss, whose methods eventually helped Bea lose 16 pounds and achieve a healthy weight by age 8, has come across as a provocateur in the mold of Ms. Chua [better known as Tiger Mom].

"I understand where the comparison is coming from," Mr. Kuhn said. "What is interesting and original and fresh about Dara's book — and, I guess, provocative — is that she's dealing with something that isn't often dealt with directly or publicly. It's maybe breaking a bit of a taboo to even talk about weight."
Actually, what's interesting (and disturbing) is that we can't tell where Weiss's own problems with food end and where her 8-year-old daughter's begin. And what's taboo is that she's forcing little Bea's weight into the spotlight, which certainly can't be good for anything — besides Weiss's bank account, of course.
Related:
Forcing Her 7-Year-Old Daughter to Diet Landed Dara-Lynn Weiss a Book Deal
A Mom's Reaction to Vogue's Story About a 'Fat' 7-Year-Old Girl 
Garance Doré Shares Her Thoughts on Vogue's Diet Mom