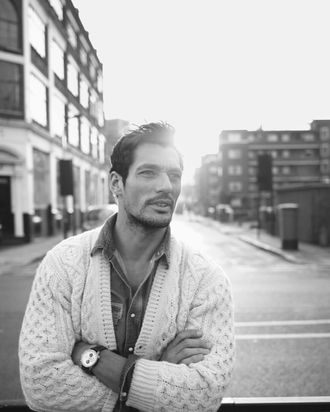 So beautiful. So full of self-loathing.
Photo: Leo Cackett/Courtesy of Men's Health
Dolce & Gabbana model David Gandy covers the June issue of Men's Health U.K. (available on newsstands May 3), and inside he discusses choosing work over his romantic relationships, avoiding processed foods, and why he refuses to tune in to tawdry British programming like The Only Way is Essex. The known self-deprecator also makes a series of comments that truly tug at our heartstrings, to which we say, buck up, baby boy — it can't be that bad when your cheeks are so chiseled. Here are Gandy's five most woe-is-me remarks.
On hating his looks: "In terms of my looks, I'm very self-critical: I hate my hair, my lips, my nose. And I can't grow a full beard. People assume I think more of myself than I actually do."
 
On being an outsider: "I've never really fitted in anywhere. I've always felt a little on the sidelines, like I never fit into one category."
 
On his intelligence: "I'm clever in many respects, but not academically. I wouldn't be doing this job if I could be a vet."
 
On not making friends in fashion: "I can't say I have many [friends] from the fashion industry. I've been modelling for 10 years, so that says quite a lot."

On why he broke up with his last girlfriend: "My perfectionism can make it difficult. I know my ex-girlfriend [Saturday's singer Mollie King] struggled. Things have to be perfect — everything in the house, every car I buy. That's incredibly hard to live with if you don't understand it."