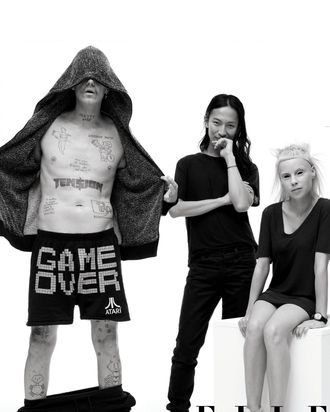 Ninja, Alex, and Yo-Landi, just hanging out.
Anna Wintour isn't the only fashion person to serve as muse for today's musicians. After casting South African rap-rave group Die Antwoord in his spring campaign for T, Alexander Wang became fast friends with the trio — that's lead vocalists Ninja and Yo-Landi Vi$$er, with tracks by D.J. Hi-Tek. From Elle's May issue:
"He's like a wispy little punk," says Ninja, recalling a debauched night on the town with Wang in December. ("We were like, Whoa, this is VIP shit!") In fact, the duo was so taken with the experience that they name-checked Wang twice on their second album, Ten$ion, released in February. "We had to make a song right after [that night] because we wanted to quickly give him a shout-out," says Ninja, who raps in "Hey Sexy": "I know how to get da dough, I know how to spend da dough/ Rockin' Alexander Wang from head to toe." Adds Yo-Landi, several verses later: "I like partying, partying, partying, damn! Ask my man Alexander Wang."
Ninja and Yo-Landi now wear Wang's creations on the regular, the former bemoaning, "His T-shirts have turned me into a wimp"; the latter, "The fuckin' material he uses! … They look super ordinary, but they're subtly flattering. You can't wear another T-shirt after it; his feel so expensive." Ringing endor$ement$, if there ever were ones.