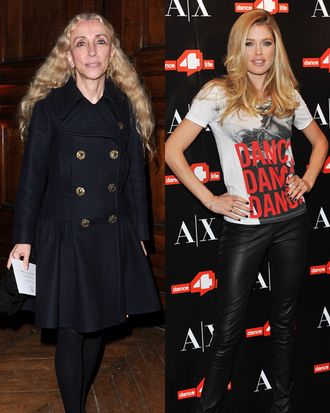 Franca Sozzani and Doutzen Kroes.
Photo: Slaven Vlasic/Getty Images, Pascal Le Segretain/Getty Images
While Franca Sozzani and Doutzen Kroes were participating in Harvard's public forum "Health Is Beauty: Defining Ourselves," they both sat down with Jean Fain, a Harvard Medical School–affiliated psychotherapist who specializes in eating issues. In addition to reiterating many of the points Sozzani made in her speech on thinness in fashion media, both Kroes and Sozzani talked about how they manage their respective self-images. Sure, both women are beautiful, so it shouldn't be hard, right? But being well-known figures in their fashion industry, their physical appearances are widely scrutinized. Rather than taking the approach seen in many women's magazines, where female celebrities often play the "everywoman" card and confess that they've always hated their arms or earlobes or toenails, both Kroes and Sozzani avoid criticizing themselves entirely. In fact, Kroes tells Fain that she never complains to anyone about her appearance, as a rule.
I never say. If I say it, people focus on it. Even my husband doesn't know. I think it's good to be married, but you still have these mysteries. I'm not going to share because then he see it. I have flaws, but I get to the set and they make me feel beautiful. I feel lucky that I have that. I have my family. I'm happy. I'm doing what I do. I'm 27 and had baby last year. After that, some mental thing changed about weight. I totally let go. I feel better than ever, the best I can be. I think women have to accept their body, but be the best they can be. If you work out, eat healthy and you're happy. That's all that matters.
Meanwhile, Sozzani focuses on her hair, which she loves.
I like my hair. My hair is part of my brand. I cut it very short because at a certain moment I didn't like. I tried to find my own style, my own way to be … I'm not this kind of people who say to accept yourself. You never to accept yourself if you're not happy. Why say "I'm fat, I accept myself." Why? You could have a much better shape. It doesn't mean you have to become anorexic. The goal is to fight, day by day, to arrive where you want to arrive. It doesn't mean to be too skinny or too fat, but feel curvy and sexy and happy.
So, run along and enjoy some jelly beans this weekend, folks! In related news, Sozzani started a forum on Vogue.it to discuss eating disorders and promote her petitions against "thinspiration" websites.