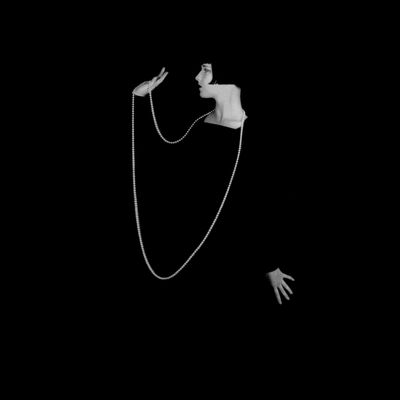 1929: American actress Louise Brooks (1906 - 1985) wearing a long necklace which stands out starkly against a black background. (Photo by Eugene Robert Richee/John Kobal Foundation/Getty Images)
Photo: Eugene Robert Richee/John Kobal Foundation/Getty Images
The last century saw two World Wars, economic disaster, numerous artistic movements, and the rise of the digital age — and, along with it, a complete transformation in women's fashion. Cally Blackman, a dress historian and instructor at Central Saint Martins, attempts to chronicle the shift from corsets to today's ready-to-wear, pulling together more than 400 photographs and illustrations to create 100 Years of Fashion, published by Laurence King. Organized by sections that include "Youthquake," "Amazons," "Couturière," and "New Looks," the goal was to give an overview without getting too in-depth. "I suppose one of the frustrations was I couldn't go into great detail on any one topic because there just wasn't space to do that," Blackman says. "I think that's always the difficulty with this kind of book." This is the third in a series, following 100 Years of Menswear and 100 Years of Fashion Illustration. The new title comes out May 7, but you can see a preview in our slideshow: "Everyone can identify with [one] image or another because clothes are so much of our lives and such an important part of our lives," she explains. Plus, read ahead for more about the making of the book in our interview with Blackman.
How did you decide which images to include?
It was very daunting. I mean, obviously, a hemline history, chronological approach is rather liable to be quite dull. So, one has to kind of shake it up somehow. And so I chose various themes that were important at various times … I knew that there were images I needed to find — sort of watershed images if you like, such as Paul Poiret, [who] is very important towards the end of the first decade of the twentieth century. His "Directoire" line really changed the shape of fashion quite dramatically. 1947, Dior's "New Look," obviously, you know, I had to have that included. Vivienne Westwood's "Seditionaries" collection in 1976, which introduced punk. You know, there were the obvious watersheds, and then I'm afraid another tool I used was to include favorite images of mine. I mean, this book is a reflection of my personal selection … and that's just how it is — I can't avoid that.
What was your favorite section to work on? Which section did you most identify with?
My favorite section was Bohemian because I love that period. I love the fact that these are fascinating women that have interesting personalities and interesting stories, and I get very interested in the people almost as much as the dresses they're wearing. So I loved doing that. The section I identified most with was "Youthquake" because I was a fashion student in the seventies in London, at Saint Martins. So the seventies and eighties are decades that are very familiar territory to me. And I was a hippie, rather than a punk. I still love that look, the layered look of ethnic clothing and tribal jewelry.
How do you have foresight to choose images from more recent years? You're saying that these will be the images that matter 100 years from now.
Well, that's a very good question. That's a very nerve-racking situation, to make judgements like that without the benefit of hindsight. So I decided that I wasn't going to think too hard about it in that way, that I was going to more concentrate on selecting designers that would fit into the four categories that I decided to do in the "Designer" section [Editor's note: The "Designer" section is split into the following categories: Minimal, Colour, Concept, and History and Heritage]. So, rather than focusing on specific people, I was focusing on the themes that designers seem to be interested in. That might sound like a bit of a cop-out, [but] it's extremely difficult to make judgements without at least five years' hindsight … I think, also, towards the end I focused on the fact [that] it's a lot to do with celebrity and fame now. It's not a straightforward world, the fashion world, like it used to be 100 years ago, in many respects. It's much more predicated on celebrity, and that's a complicated area.
How do you feel about that shift?
Well, a lot of the women that [The Cut] picked [for the slideshow] were celebrities whose image was predicated on what they wore and how they looked — obviously otherwise they wouldn't be in the book. But they were all very interesting women. They were women who, above all, really had style. And I think style is a key word … I think, that's a slight problem with celebrities dressing today. I think quite a lot of celebrities don't have style — they are styled by professional stylists, so their clothes almost become like costume. Whereas somebody like [Coco] Chanel, she had style no matter what she wore. Even on the beach in Saint-Tropez, she'd be looking amazing and living her vision … I'm really trying hard to think of somebody that I could equate with Chanel that is current, and it's really hard! … Because when you see them all off-duty, they all look terrible! I guess somebody like Isabella Blow looked amazing, but then she wasn't exactly a household name, was she? … I think it's really telling that it's celebrities rather than journalists and fashion editors and buyers in the front row [at Fashion Week shows]. That's what it's all about now.
How does this book compare to your other two, in terms of process?
It was a lot more challenging compared to the other two because of the scope of the topic and because I just realized how many things I had to try and squeeze in, and fit in 400 pictures and not a huge amount of text. And just give a sort of comprehensive overview, which is all that the book can hope to do. I suppose one of the frustrations was I couldn't go into great detail on any one topic because there just wasn't space to do that. I think that's always the difficulty with this kind of book. Now it would be lovely to go in and do a book on … one designer or something because it would be so much more straightforward in a way.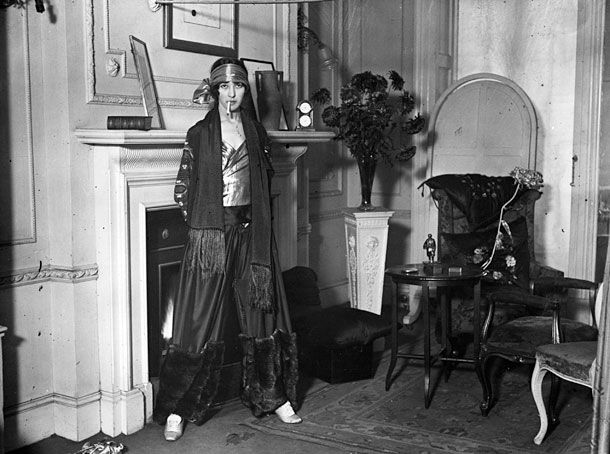 Smoking Suit, 1922
Women had smoked in private since the 19th century, but in the 1920s, "fast" young women began to smoke in public. This pajama suit included a lamé top and fur-trim trousers — which were deemed very daring at the time.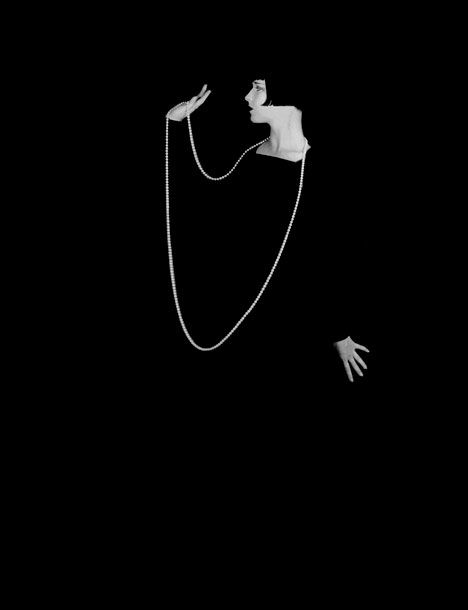 Louise Brooks, 1929
The American dancer, actress, and model epitomized the 1920s flapper look, and popularized the bob haircut.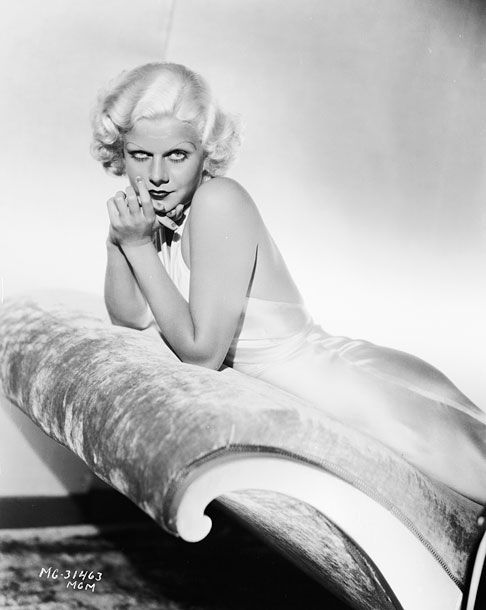 Jean Harlow, 1932
She brought Madeleine Vionnet's backless evening gown (introduced to couture customers in Europe around 1930) to America and inspired women everywhere to pick up bottles of peroxide for their hair.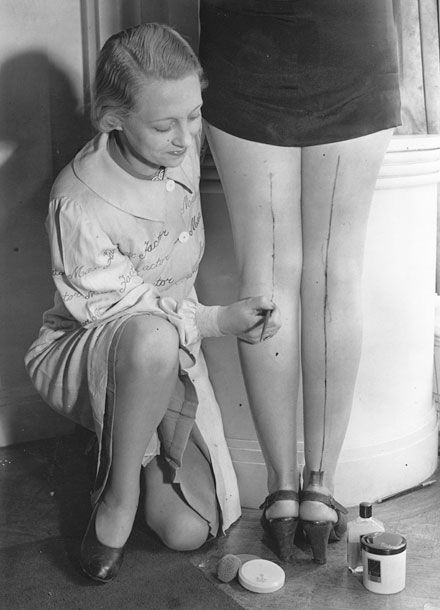 Max Factor stocking paint, 1940
Silk stockings were scarce in Britain during World War II, and companies including Max Factor and Elizabeth Arden produced leg paint to imitate seamed stockings. Gravy-browning and cocoa were cheaper alternatives.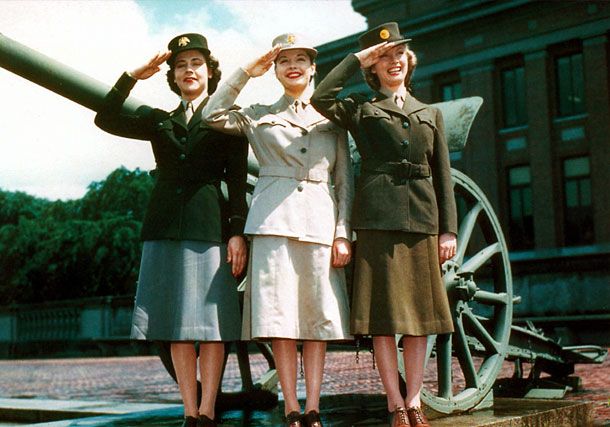 USA Women's Army Auxiliary Corps model uniforms, 1942
America joined World War II in 1941, and members of the Women's Army Corps wore uniforms adapted from male styles.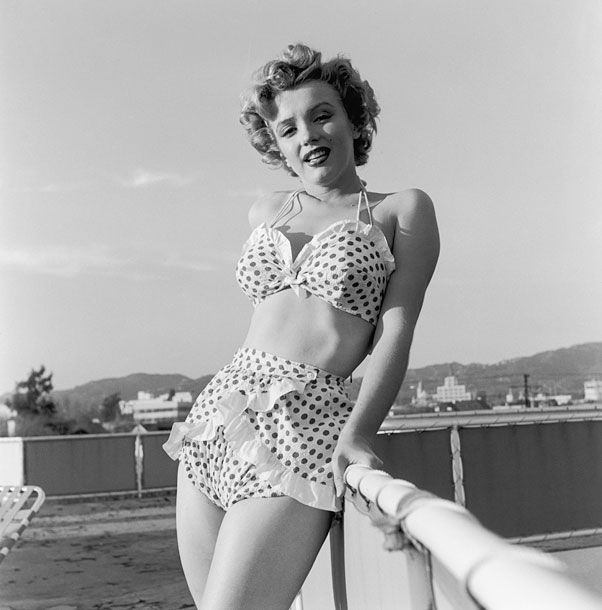 Marilyn Monroe, 1951
In 1946, the itsy-bitsy swimsuit as we now know it was born (but two-piece styles with more coverage were available starting in the 1930s). They were called "bikinis" after the Bikini Atoll in the Pacific, where America conducted atom bomb tests.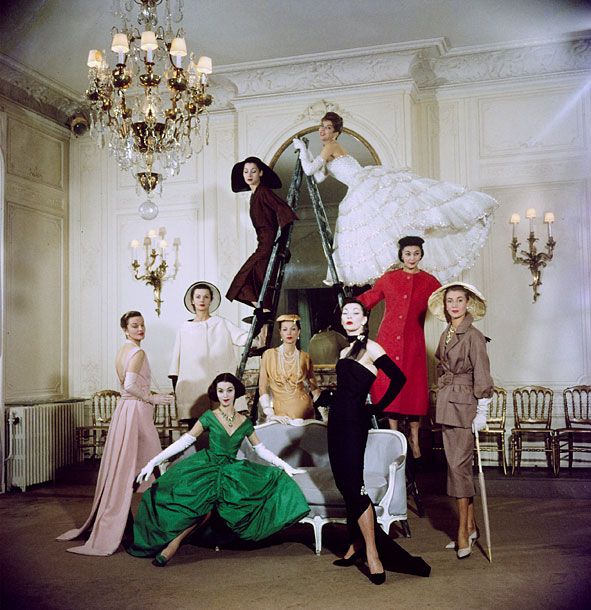 "Fuseau" collection by Dior, 1957
Time Magazine ran this photo in its March 4, 1957, issue, which featured an illustration of Christian Dior wielding a pair of cutting shears on its cover. The use of ladders has inspired photographers ever since, as seen on Vogue's 100th anniversary cover in May 1992 or the May 2007 cover of Vogue.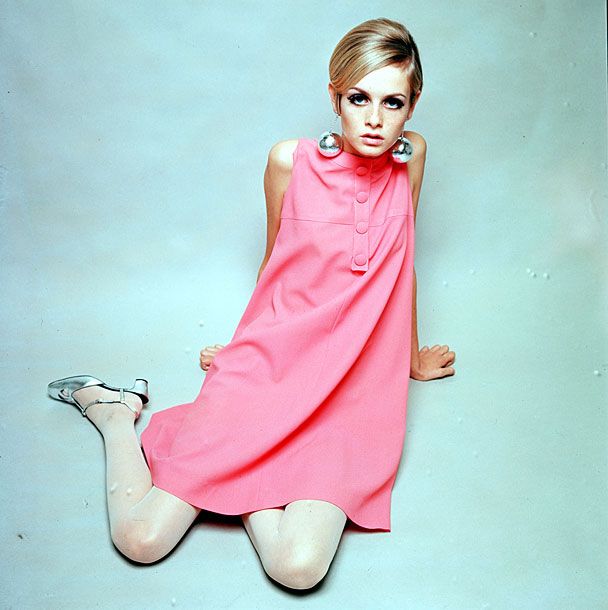 Twiggy, 1966
Twiggy, pictured here at age sixteen, embodied the baby-doll look and represented the second half of the sixties in London.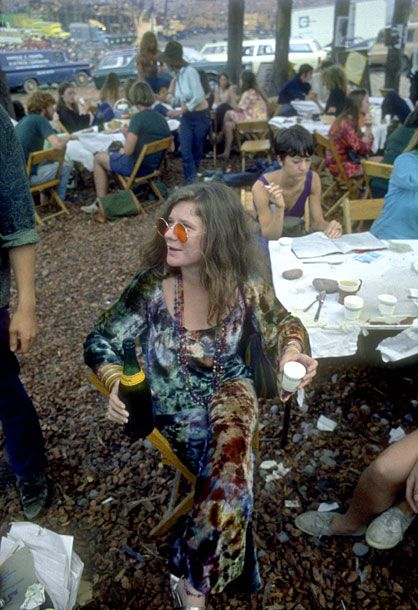 Janis Joplin, 1969
Before there was Coachella, Bonnaroo, or SXSW, Janis Joplin demonstrated festival fashion at its finest. Pictured here at Woodstock, the singer's tie-dyed seperates (sourced from the Fur Balloon boutique in New York), long beads, and orange sunglasses represent what the music crowd today can only hope to emulate.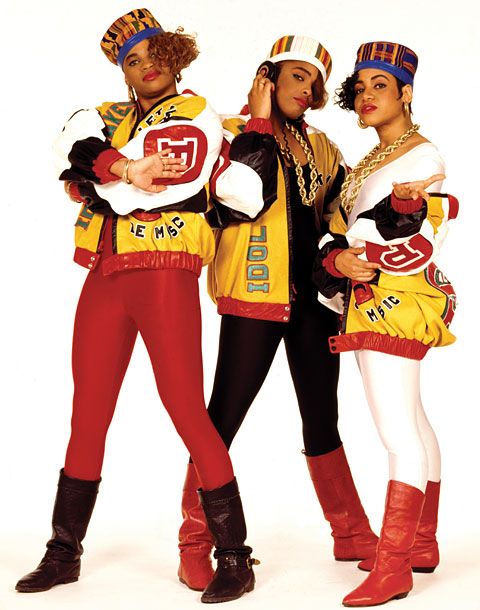 Salt-n-Pepa, 1987
The launch of MTV in 1981 brought music subcultures to a wider audience, making it easy for viewers to replicate the hip-hop sportswear look appropriated by Salt-n-Pepa. Today, the Internet allows for an even more rabid consumption of fashion and an emphasis on individual style, as well as celebrity culture.