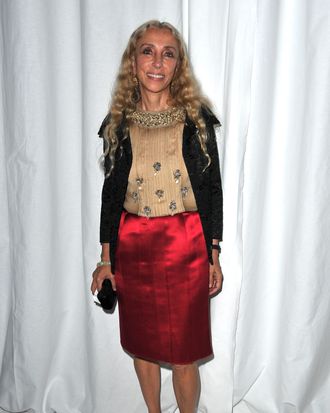 Franca Sozzani.
Photo: Pascal Le Segretain/2011 Getty Images
After agonizing over the matter for several weeks, Italian Vogue's Franca Sozzani delivered her speech on thinness at Harvard yesterday. Her overall message — that fashion is partly to blame for eating disorders but so are lots of other factors like pro-anorexia websites, troubled family life, and the food industry — is one that she has written about extensively on her own blog. Although she did not defend herself for promoting the fashion industry's standard of thinness in the pages of Italian Vogue, she did question this standard's appropriateness.
In her speech, which she posted in its entirety on Vogue.it, Sozzani states:
What led us to establish that thin is beautiful and that thinness is the aesthetic code we should follow? Why [did] the age of supermodels, who were beautiful and womanly, slowly [start] decreasing and we now have still undeveloped adolescents with no sign of curves? Why is this considered beautiful? Marylin Monroe, Liz Taylor, and Sophia Loren today would appear in our Curvy channel [Italian Vogue's special section for "curvy" women] and be defined shapely.

Yet they are beauty icons still today. What has really happened? Trends change also regarding aesthetics, and today we accept such standards as the most normal thing. And this is a negative example.
Unfortunately, Sozzani doesn't answer most of her own questions about thinness in fashion, except to talk about Italian Vogue's "curvy" issue, published with much fanfare last year. And while Sozzani certainly gets points for trying to buck this "aesthetic trend" by portraying women of all sizes in her magazine, one can't help but wish that this could happen without such fuss. When will "curvy" — i.e., more normal-looking models — appear regularly enough that they don't have to be padded with gimmicks like special "curvy," "shape," and "health" issues? No one disagrees that a great model of any size will photograph beautifully and make clothes look fabulous. Right?
To Sozzani's credit, she also emphasized the importance of health over thinness and doesn't blast thin models, either (after all, plenty of very thin and even "underweight"-looking women and girls are perfectly healthy):
We cannot generalize, of course, and accuse the girls we see walking runways of being anorexic. They are still undeveloped.
She also talks about the food industry's role in the rise of obesity and, conversely, a growing societal focus on dieting and distorted relationships with food:
The lack of alimentary [sic] education for kids may change their attitude towards food, that is not seen as the enemy, because if they eat healthily they will not gain weight. Not to mention all the pills and medicines advertised to lose weight in few days and the quantity of books published every day on "miracle diets". All this information appears every single day in newspapers, on TV and radio and on the web. And isn't all this supporting the idea that thin is beautiful? Nobody mentions our health and healthy eating education. I can accept that fashion may exaggerate, but I cannot help but mention all the negative tools that society employs to spread false information on food and aesthetics. How can all this be possibly caused by fashion?
While all of the above is true, fashion is not an innocent party. Yes, it is one of the many negative influences that has caused widespread body-image issues, eating disorders, and weight problems of all kinds throughout much of the developed world. Bravo to Sozzani for experimenting with new ways to confront these matters and for discussing them openly. But as she herself says, we all share some guilt, and there's no perfect solution.