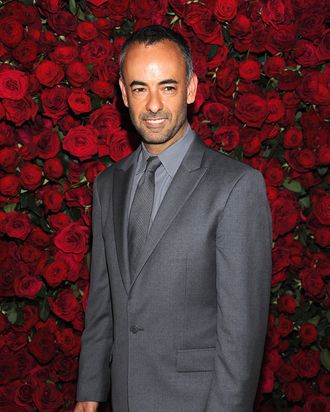 Francisco Costa.
Photo: Dimitrios Kambouris/2011 Getty Images
How exotic-sounding! Francisco Costa, women's creative director of Calvin Klein Collection, will collaborate with Macy's as part of the chain's spring promotion to benefit the Amazon rainforest. The designer created a capsule line of crepe and jersey dresses, priced from $135 to $180, under the Francisco Costa for Calvin Klein label, and the wares will be sold in more than 80 Macy's stores and online at Macys.com starting May 15.

Francisco, who grew up in Guarani, Brazil, explained, "This fresh, youthful line of dresses reflects both my roots and the modern, yet timeless spirit of Calvin Klein." Martine Reardon, Macy's, Inc.'s executive vice-president of marketing, called his participation "a huge coup for us. We obviously have a huge distribution of Calvin Klein products but we do not carry the [designer] collection that Francisco creates. Unfortunately, those price points are not within Macy's price points."
And priceless: the promo's name, "A Magical Journey to Brasil." Macy's will also be working with other designers from the U.S. and South America, but Reardon declined to name names.