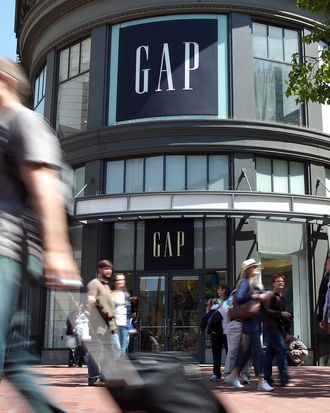 Not Gap's utopia.
Photo: Justin Sullivan/Getty Images
As part of Gap's goal to reshape its image (but never stray from its blue box logo, because look how that turned out), CEO Glenn Murphy and his team installed a prototype store at Los Angeles's the Grove mall, which the Times went to visit. From the Gray Lady's travel log:
This can't be a Gap: the mannequins look kind of happy.

And the paint looks fresh, the fixtures intact. Over here are pink and yellow jeans for women; over there, bright spring-fresh scarves. Upstairs is some cool-looking men's denim. And, throughout, natural light chases away the usual drab florescence.
There are also fitting rooms in the center, a stylist on hand, and enough employees to make sure that the aforementioned mannequins "all have the appropriate number of limbs attached to them" — it's no wonder they look kind of happy! Gap hopes to bring some of the revised concepts* to its more than 1,000 North American shops.
As for the "pink and yellow jeans" and "spring-fresh scarves," they're part of Gap's Be Bright campaign, and they're apparently doing wonders for the troubled retailer:
In February and March, same-store sales shot past analysts' expectations. The share price of Gap Inc., the parent company, is clawing its way back, too. It had plummeted from $53 in February 2000, when Gap's dot-com-era khaki was burying its rivals' more formal business wear, to $9.50 in November 2008, at the height of the financial panic. On Friday, it closed at $28.53, up nearly 54 percent so far this year. "We really believe we have a diamond, and we just need it to be polished properly," Mr. Murphy says.
It's true, Mr. Murphy. And if you build it — it being your new Gap utopias, of course — they will come.
* A Gap spokesperson contacted us to clarify that The Grove concept in its entirety won't be brought to the rest of Gap's stores, but "it's more about testing innovative ideas, evaluating which parts are working, and then determining how we want to implement those parts more broadly across our store fleet."