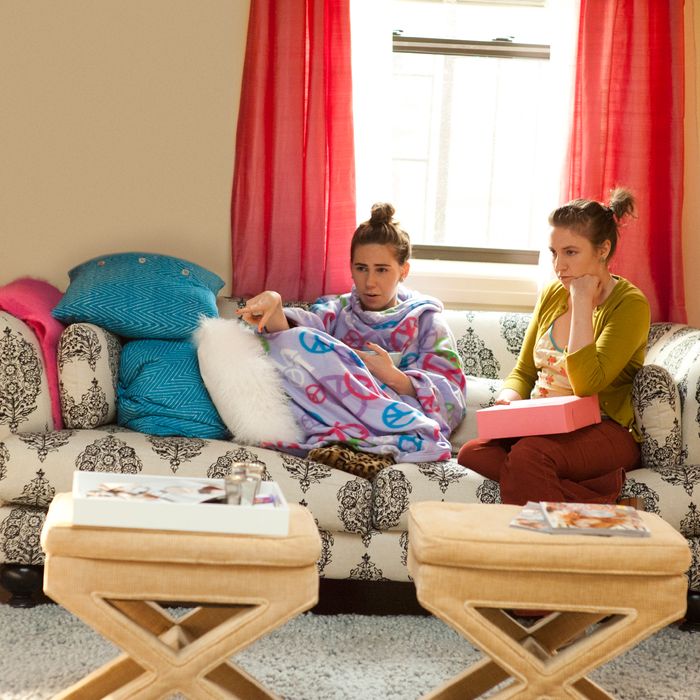 It was a highly exciting week on Girls, outfit-wise, probably because there was no nudity in this episode. Jessa's ensemble takes the cake, as usual: She shamelessly combines a sheer white muumuu with neon pink underwear to go babysitting. However, a new and exciting side of Marnie rears its sexy head in the form of a short, tight red dress, which she wears to a gallery-opening party. Finally, Hannah dresses up in a goth outfit for no discernible reason, and Shoshanna wears the show's first Snuggie. Read on for our fashion analysis!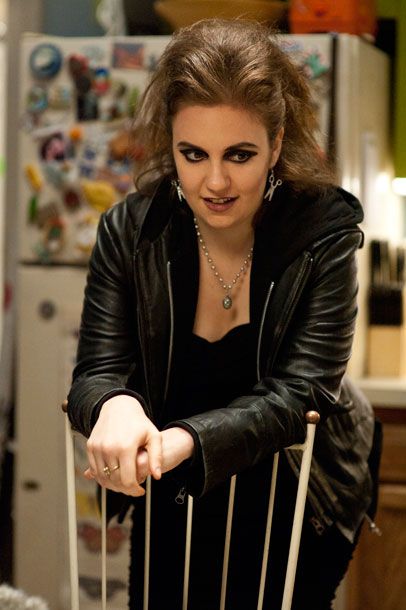 Hannah
Everybody knows that any occasion to wear a "goth" outfit (Halloween, say) is just a passport for girls to wear something slutty. We never discover exactly why Hannah dolls herself up in costumey eyeliner, teased hair, a miniskirt, and black leather, since the next thing we know she's calling Adam from outside his window. Perhaps she really did have a Wicca–themed party to go to, or maybe she was just looking for a new way to get Adam's attention. Anyway! Fast-forward to the next morning, when her eyeliner's all over her face and Adam's playing with her belly fat under her black zip-up hoodie. Case in point: Those costume-fueled hookups never end well.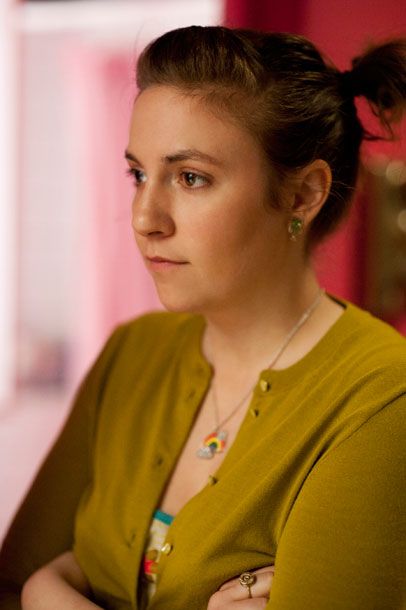 Hannah
After getting her HPV news in the aforementioned eyeliner-smudged state, Hannah swings by Shoshanna's house to change into a more respectable outfit of rust-colored pants and an avocado-colored cardigan. That ensemble doesn't last long, though: Upon deciding that she needs to discuss her STD status with her ex-boyfriend Elijah, she heads to a nice wine bar in a plaid sleeveless dress with pearl buttons and a beaded necklace. After Elijah breaks the news to her that he's now gay, he not-so-kindly points out that people might think she's gay, too, if she keeps dressing "like that." (As if to hammer this home, he actually looks quite dapper.) Also: He points out Hannah's dad's ear stud! Phew. We'd been wondering about that too.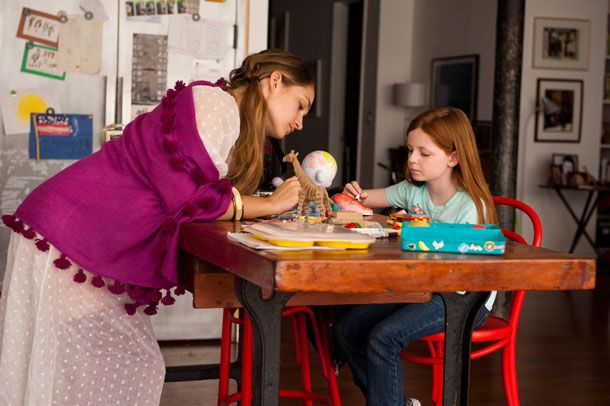 Jessa
Jessa wears the same outfit for the whole episode, and it's an exciting one at that: a long, sheer white lace dress that shows her matching hot-pink bra and panties, made all the more ridiculous by the fact that she wears it to her new babysitting job. "It's very um, current," says Shoshanna, which is of course a nice way of telling someone they look trendy in a bad way. Shoshanna encourages Jessa to put on something less revealing, so Jessa compromises by covering herself up with a pink shawl trimmed with pom-poms. She also wears a cool turquoise necklace that awkwardly disappears and reappears in the middle of scenes for no apparent reason. Neither the parents nor the kids seem to notice their new babysitter's bellybutton is indeed showing through her dress.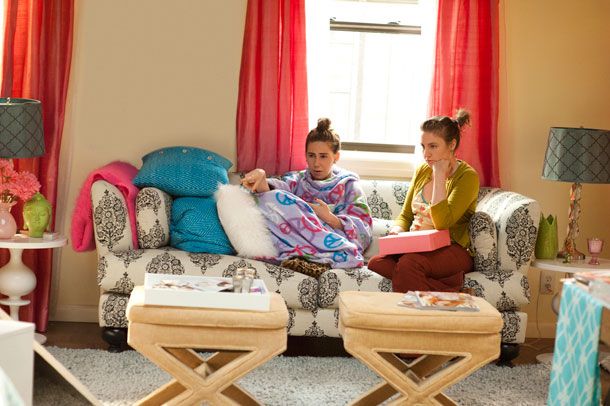 Shoshanna
Shoshanna appears in a few short but crucial scenes in this episode: the first time with Jessa (when she provides a nice contrast to Jessa's outfit with yet another short-sleeved cardigan (really, when should cardigans ever be short-sleeved?) and the second time in a fantastic fleece Snuggie when Hannah stops by her apartment. She's eating cereal and watching TV on her couch. Amen, girl.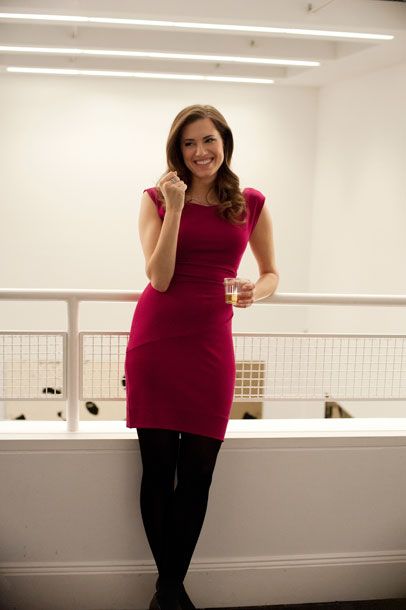 Marnie
Marnie starts the episode in yet another bland beige, striped sweater when Charlie "surprises" her with his shaved head, which she obviously hates because the poor guy can't do anything right at this point. Then, salvation! We finally get a break from Marnie's buttoned-up work outfits in the form of a hot red dress that she wears to a party at the gallery where she works. It's not exactly stylish, but it's sexy in the kind of way that we imagine Marnie to be okay with – it's fitted and short, but thanks to its conservative neckline and some black tights, she doesn't show much skin. Anyway, with some help from her drunk (and very fashionable-looking) boss, she attracts the attention of a young, successful artist, who pays her exactly the kind of attention that newly bald Charlie has no idea how to pull off. Red-dress Marnie seems like trouble, in a great way.