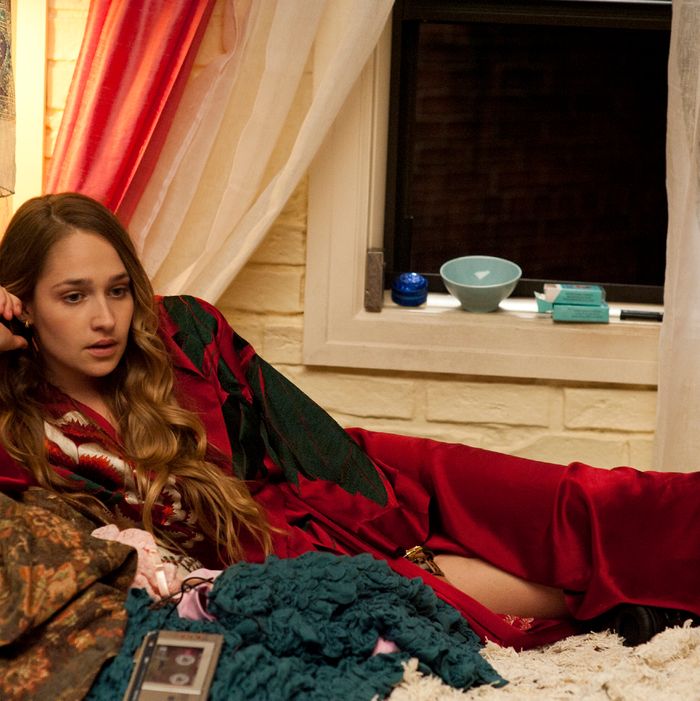 The second episode of Girls starts with two awkward sex scenes, followed by 24 minutes of sex aftermath. Namely, Jessa's abortion plans and Hannah's STD scare. Costume-wise, this plotline obviously calls for some nudity but also a fair amount of lounging-around-the-apartment clothes, the kind one wears while fretting about the state of one's vagina. Meanwhile, Hannah goes on a disastrous job interview (with a very buttoned-up-looking Mike Birbiglia) wearing an unfortunate maroon waist-belt. Read on for our analysis of each character's wardrobe choices.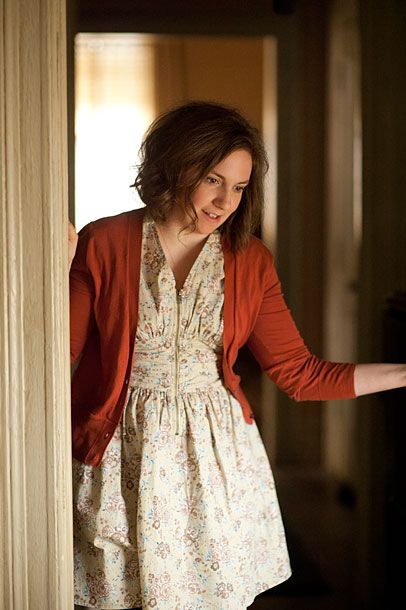 Hannah
Hannah commences this episode nude, but her sex scene with Adam is a major upgrade from last time's (for starters, they're at least in bed, and she presumably wasn't forced to remove her tights while flat on her face). She returns home the next morning in an Urban Outfitters-y beige print dress and rust-colored cardigan — not bad at all, as morning-after looks go — before disrobing again to compare her own vagina to STD pictures she finds on the Internet. (Thankfully, we are spared from seeing both.) Then comes her job-interview outfit, which she wears for the rest of the episode: A plaid shirt tucked into a fitted khaki skirt, accessorized with gray tights and a maroon waist-belt that matches her shirt. The tights are particularly notable because, as any woman knows, pantyhose worn on their own are the most unflattering, muffin-top-inducing garments one can be seen in; in keeping with Hannah's ability to humiliate herself at every possible opportunity, she gamely wears hers around her apartment for an entire phone conversation.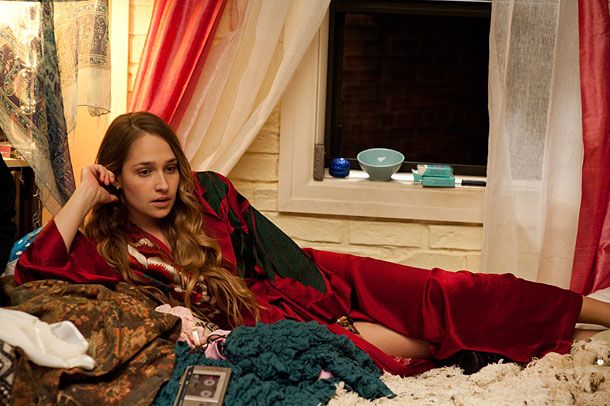 Jessa
Jessa is not the kind of woman who spends the night before her abortion sulking around in sweatpants. Instead, she wears a dramatic red kimono and lounges about on Shoshanna's bed moodily smoking pot. (Unsurprisingly, she's also one of those rare people who actually looks cool — i.e. not like an air traffic controller — with over-ear headphones on.) For her Big Appointment the next day, she wears  sassy lace-up wedge heels, high-waisted loose pants, a braided belt, and a loose white shirt tucked in, all of which looks fabulous on her but would probably look terrible on anyone else.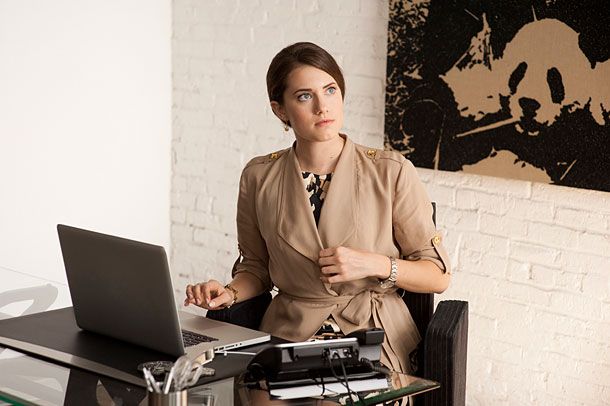 Marnie
We learn one very notable thing during this episode: Marnie keeps her cotton nightie on during sex. This confirms (1) that she does occasionally sleep in a nightgown and not just a T-shirt, (2) that her relationship with Charlie indeed lacks rip-your-clothes-off passion, and (3) that maybe Allison Williams has a no-nudity clause in her contract. In any case, she also wears a very uptight-looking work ensemble for the rest of the episode: a navy print dress under a cropped khaki jacket with gold buttons, topped off with a chignon that appears to have involved a lot of hairspray. In other words, this girl tries hard.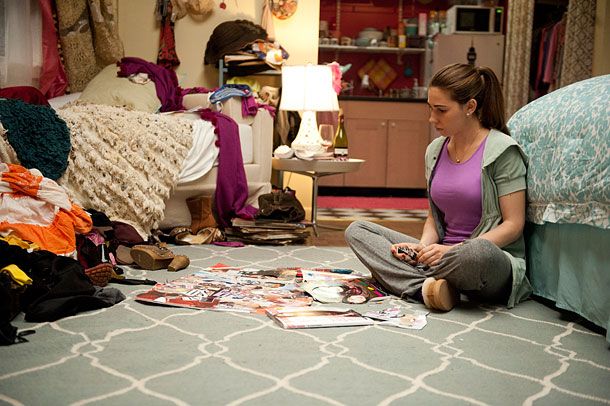 Shoshanna
Oh, Shoshanna. How a middle-schooler would die to get her paws on your closet. While Jessa lolls about in her sexy robe, Shoshanna sits on the floor working on her "manifestation board" in a short-sleeved, mint-green velour hoodie cardigan, and Ugg slippers. (This is her second velour-sweats-wearing moment of the season, no less!) Later, when she meets the rest of the girls at the gyno's office with a bagful of candy from Dylan's ("I got some snacks because I have no idea how long these things take!"), she wears a teal button-down dress under a polka-dot navy coat. We'd bet that she has, at least once in her life, waited in line to shop at the Dash store.