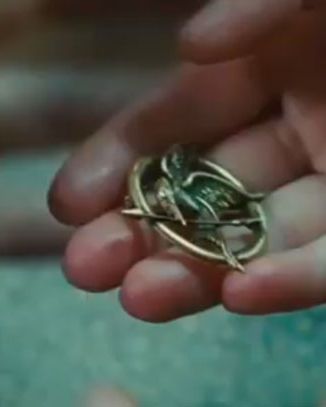 Copies of the mockingjay pin from the Hunger Games movie are widely available online for the series' fervent fans, as is a lot of other Games-themed merchandise — like, say, this wonderful Peeta Mellark pillowcase. But don't expect to come by any truly accurate renderings of the brooch, because even its creator doesn't own the rights to remake it. (So please stop asking her to do so on Etsy.) Jewelry designer Dana Schneider spoke with the Times about bringing the symbol of a fictional revolution to life:
I had already worked with two of the costume designers, Judianna Makovsky, and her assistant, Lisa Tomczeszyn… So they told me when they knew they were going to be working on "Hunger Games" that they wanted me to do it. It's really wonderful. The design itself, of course, is Suzanne Collins's design on the book cover from eons ago. That's why I knew when [Judianna] mentioned "The Hunger Games," she didn't even have to tell me what the project was. What else could it be? I knew it was going to be a really important piece in the film.
An additional fun fact: She had to make a "stunt double" for the brooch, too. But you can't buy that either.