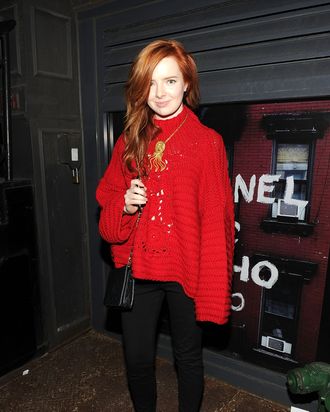 Sea of Shoes' Jane Aldridge.
Photo: Bryan Bedder/Getty Images
Jane Aldridge is understandably displeased with the backlash she's gotten over her recent Texas Monthly profile, and now she claims that some of the facts and quotes cited in the article were "blatantly made up." Perhaps more oddly, she seemed fine with the piece — she even promoted it on TV with its writer, Jason Sheeler, last week  — until we posted about it yesterday. Following our post, she tweeted: 
I would like to say that there isn't one true quote, fact, or figure in @NYmag's article. What a laugh. Cheers, hope it gets lots of clicks.
This seemed strange, because all of the quotes, facts, and figures we mentioned had been culled from the Texas Monthly piece and attributed as such. (What's more, Texas Monthly is an extremely reputable publication with a vigorous fact-checking process.) But since we obviously don't want to misrepresent facts, we reached out to Jane Aldridge to see what needed to be corrected. 
Jane wrote back to us — we should mention that she was very polite in her correspondence — and posted this rebuttal on her blog. She accused us of taking her quotes out of context, which hardly makes sense as almost all of her quotes were cut and pasted in long block form. On her blog, she refuted one of her quotes in the Texas Monthly piece regarding her disinterest in going to college:
There is a blatantly made up quote where I dismiss the notion of college. I'm fortunate to have created a job where I'm always on the learning curve and for the moment I'm glad to not be racking up college debt. It's not that I don't value education — college could very well be in my future.
So any of you who judged her for skipping college (we certainly don't; college isn't for everybody), know that she hasn't ruled it out, despite what she told Sheeler. Meanwhile, she also wrote on her blog that some of the financial figures in the Texas Monthly piece are inaccurate.
I cannot believe the figures they threw out. Not one of them is even a little bit close to true. I sure wish some of them were!
Jane reiterated to us via e-mail that these figures — namely, that her website's start-up cost was around $70K, according to her mother, and that she earns up to $20,000 for appearances — are incorrect. 
Finally, Jane expressed very earnestly that she was hurt by what was written about her younger sister, Carol:
Everything in Miss Cowle's [sic] article was all fine by me until she dragged my beautiful and sweet baby sister into this mess. It's demoralizing to have to defend my relationship with my family in a public forum, so I'm not even going to go there. That was below the belt. We love and adore her in a way words can never describe … I shouldn't even have to say that.
Of course she shouldn't! And hopefully no one doubts that Jane and her mom both love Carol, not that it's any of our business anyway. We'd never even have mentioned Carol if she hadn't played an interesting role in the Texas Monthly piece, which quoted Jane and her mother making dismissive remarks about a shirt belonging to Carol and Carol's desire to shop at Nordstrom Rack, respectively. But did we — or anyone — take them to mean that Carol wasn't loved? Not in the least. We at The Cut, of all places, know that judging a girl's shirt is very different from judging her as a human being.
Meanwhile, Texas Monthly stands by the story and sent us this statement:
Texas Monthly engages in a rigorous fact-checking process for each of its stories before they go to press. We check quotes, figures, descriptions, and any factual statement with each source mentioned in the story, as well as with outside sources. The profile of Jane Aldridge we published in the April 2012 issue, written by Jason Sheeler, underwent this very same process. Both the writer and the fact-checker contacted Jane multiple times throughout the editing process to clarify details, and Judy Aldridge, as Jane's spokesperson, confirmed figures, quotes, and biographical details with our fact-checker through several phone calls. (Judy did contest the figure "several hundred thousand dollars" of investment in the blog given to the writer by Bryan Aldridge; when we could not contact him because he was out of the country, we chose to also include the number she provided, "closer to $70,000.") We stand by the reporting in this story. In Jimmy Choo stiletto heels.