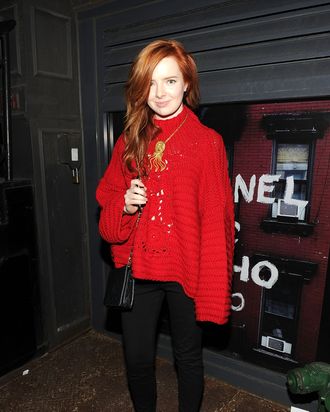 Jane Aldridge.
Photo: Bryan Bedder/Getty Images
Sea of Shoes blogger Jane Aldridge is the subject of a not-alt0gether-flattering profile in the latest issue of Texas Monthly, which begins with Aldridge scolding the reporter, Jason Sheeler, for daring to touch a pair of her Miu Miu glitter booties: "Hello! I'm trying to shoot those. Can you put them down?" He actually gets a bit scared, and perhaps with good reason:
There are many women who love shoes, but Jane's infatuation with footwear—discernible in her narrowing green eyes, her mean-girl tone, and proprietary bossiness—is intimidating. "Shoes are the only accessible thing in fashion," she sagely pronounces, with a slight lisp.
The photo shoot proceeds to get even scarier.
Click-click-click. Jane gets to work. She fluffs a shaggy pillow behind the Miu Mius as a dramatic score by Ennio Morricone blares from desktop speakers. Click. Deep breath. Run fingers through hair again. Check the image. Clench jaw. Click-click. Turn the shoes upside down. Add a plastic dinosaur. Click. No, a glass-top table. Windex the table. Add a bronze ram's head—no, a wonky-eyed, Ewok-looking animal. Or a bright—"Aaagh!" Jane screams, then exhales loudly. She stomps barefoot across the room in frustration.

"Mom!" Jane calls, morphing from industry veteran to child in crisis. "Why isn't this working? The light is always good 
up here."
After recovering from this incident, Sheeler delves into the financial logistics of Aldridge's site, which is co-managed by her divorced parents (Jane's mom, Judy, helps with e-mails, photo shoots, and other various projects, while her lawyer father, Ryan, manages some of the business and legal aspects). Apparently Jane's parents invested the initial start-up money for the site (about $70K, according to Judy — not including Jane's closetful of designer shoes and clothes), and Jane now commands up to $20,000 for appearances and $5,000 for sponsored posts. 
Now 20 years old, Jane has decided to skip college in favor of moving into her own apartment and continuing her blog. Reports Sheeler:
"Why should I go to college?" Jane asked me a few months ago, as she grabbed a glass of champagne off a passing tray at a boutique party we both attended. "I'm already doing what I want." … She is inundated every year with invitations to every major fashion show but never goes—in fact, she has never been to one, period. "I mean, why?" she says. "Every blogger wants to go to Fashion Week now. So boring." And though she could move anywhere she wanted at this point—New York, Los Angeles—the new apartment she has chosen is near Turtle Creek, in Dallas.
And if you're hoping that Jane is secretly down-t0-earth and wears sweatpants in her spare time, then prepare to be disappointed.
Jane smooths her half-tucked, sheer white blouse. I tell her I think it's a cool shirt. "Really? I think it's, like, Splen-did," she says with a grimace, sounding out the mall brand with the horror of someone being forced to say "ointment." She nicked the shirt from her sister's closet; Carol, who is seventeen, is in her first year of boarding school in Wales. "I'm getting my hair dyed in a bit and, you know, what if it messes up my shirt?" 
In fact, both Jane and Judy share a disdain for poor Carol's lack of snobbery: "We pass by the discounter Nordstrom Rack ('Gross!' says Judy. 'Carol made me go there one time, and I wanted to punch myself')." But then again, Carol might be better off in the long run.