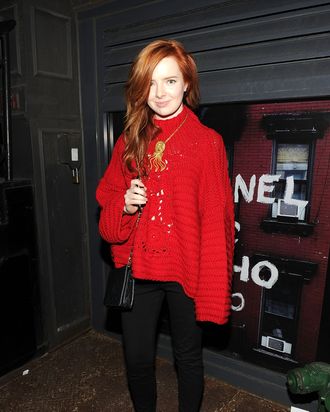 Jane Aldridge.
Photo: Bryan Bedder/Getty Images
Journalist Jason Sheeler defended himself today against Jane Aldridge's accusations that he "blatantly made up" quotes in the Texas Monthly profile he wrote about her. His rebuttal was hardly necessary, since the profile was thoroughly reported and rigorously fact-checked; yesterday, Sheeler's editors told us that they stood by the piece and had plenty of evidence that its contents were factual. Regardless, Sheeler wanted to give his side of what has spiraled into a somewhat ridiculous story.
Sheeler's rebuttal — just like his original piece — is thoughtful, measured, and well-written. He points out (just as we did yesterday) that Jane and her mother Judy never contested any part of the story when it was first published. In fact, they even helped him promote it:
Until yesterday, neither Jane nor Judy disputed any fact or quote since the story hit newsstands on March 21. I have spoken and texted with both Jane and Judy many times since then, and I received a text from Judy that she sent immediately after reading the feature. "Hey there, I really liked the article," she wrote. "It was very well done!" 

A week later, I picked Jane up at 6 a.m. for an interview with WFAA's Ron Corning, the morning news anchor on the ABC affiliate in Dallas. I knew she was nervous about going on live television. But on the air she called me "sweet" and nicely explained her moment of "mean-girl tone" in the story. However, she became upset on the way home. She thought Corning had focused on "the worst parts" of the story. But the next day, after watching the segment, her attitude had changed. Jane Facebooked me, writing "it was a great piece and the news segment was very nice … I am grateful for your hard work, from the bottom of my heart… . Clearly I do not have the constitution for the limelight. In the light of day I can see what a great thing this has all been."
So, why the sudden about-face from the Aldridges? When Sheeler's story was published online, several blogs — including The Cut — read it and found some of Jane's quotes amusing (namely: when she talked about not going to college, called fashion shows "boring," and scoffed at an inexpensive shirt). We didn't come up with those sentences, and neither did Sheeler; Jane said them herself. The quotes incited a great deal of criticism from readers across the Internet, which understandably made Jane upset. She responded by writing a "rebuttal" on her own blog yesterday, in which she claimed that parts of Sheeler's article were "blatantly made up." 
In his piece today, Sheeler recounts — with painstaking detail — the context in which he obtained each of the contested quotes and facts. He also goes out of his way to express his fondness for Jane and her mother (as evidenced by the piece's title, "I Really Do Like Jane Aldridge"). It's clear that he genuinely didn't mean to paint an unflattering portrait. But no journalist can truly predict or control a reader's response, and Sheeler knows this. In fact, he even warned Jane about it:
When we had lunch to discuss the possibility of a profile, I promised Jane she would not enjoy reading about herself. I also promised her that I would get on her nerves, that I would ask her lots of things she didn't want to talk about, that the photography would be first-rate glamorous, and that people would find her story interesting. I believe I have made good on all of those promises.
Indeed he has, and he shouldn't feel the need to defend himself for it.