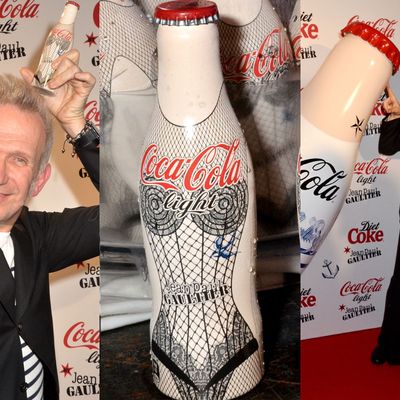 Jean Paul Gaultier and his (sexy?) Diet Coke bottles.
Photo: Foc Kan/WireImage
Obviously, you've ALL been waiting on the edge of your seats to see exactly what a Jean Paul Gaultier–designed Diet Coke bottle looks like (happy slow news Friday!). Turns out they look a lot like his sexy torso-shaped perfume bottles. The designer's part-creepy, part-charming Diet Coke ads (in which he provides much-needed makeovers to hapless puppets) culminated with a big party in Paris last night, where he unveiled his limited-edition Diet Coke bottles. He also wore a black bob wig for part of the night and posed for pictures with the bottle on top of his head like an antennae — honestly, the man could design toilet-seat covers and we'd still love him. Anyway, there are two designs: one featuring his signature sailor stripes (kind of like his Le Male scent bottle) and the other with a corset (like his Classique perfume bottle). He'll reportedly come out with a third bottle featuring tattoos this summer.