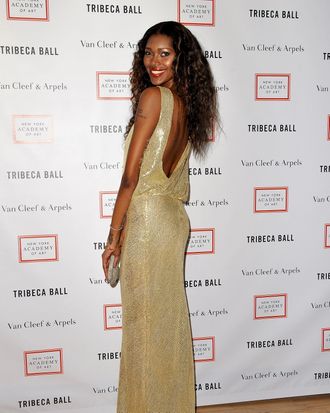 Jessica White.
Photo: D Dipasupil/FilmMagic
"I think the world is going to be really shocked," said model Jessica White of her forthcoming debut album, which she was eager to discuss at last
night's New York Academy of Art Tribeca Ball. She describes the music as "more of a soulful pop" and says she's been recording with producer Ryan Leslie. "I'm a lot more creative than people can imagine," she continued. "This year, they're gonna get a big huge handful of how creative I really am." More details:

How does your modeling background affect your music career?
I'm a poet first and foremost, before the modeling. I mean, modeling, it's being an artist as well. It's just being a silent artist. It takes a lot of self-control and a lot of discipline.
What's your writing process like?
I'm a bat. All my greatest, creative ideas come at night. So I hardly ever sleep.

Will there be guest stars on your album?
Oh yeah, a lot. But I don't want to say who. I want everybody to be surprised. This is huge. I'm using a live band to record the whole entire album. And I'm producing a lot of it and writing my own material. So I think the world is going to be really shocked. We don't know when it's coming out. Right now I'm just creating.