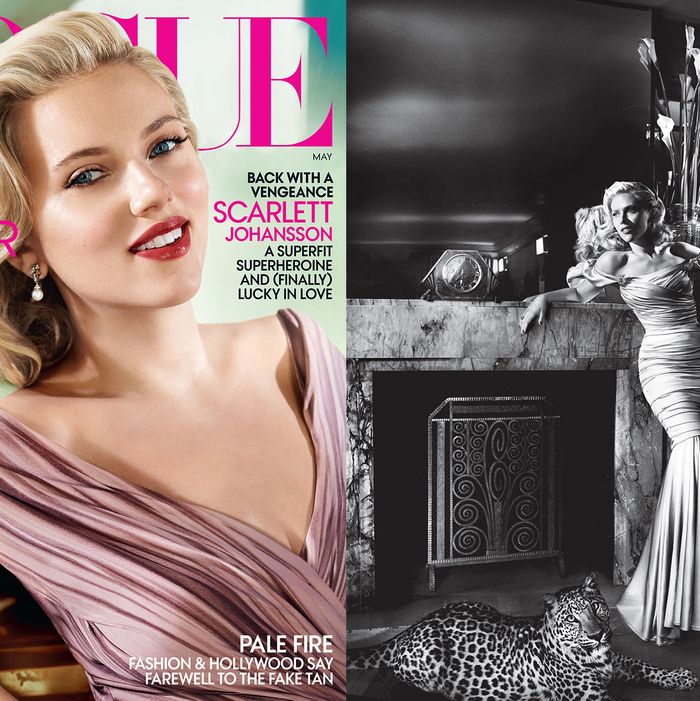 Scarlett Johansson (and tiger) shot by Mario Testino.
Photo: Mario Testino/Vogue
One can't help but wonder if Vogue's decision to put Scarlett Johansson on its May cover was born from the actress's campaign work with Anna Wintour for Barack Obama, as there's precious little discussion about The Avengers in the cover story, but she looks lovely either way. In the accompanying interview, she talks about Serious Vogue-Appropriate Topics like politics (she's also helping with Scott Stringer's mayoral campaign) and her divorce from Ryan Reynolds, which she's been wisely tight-lipped about since it made headlines in December 2010. Also, what about that embarrassing nude-photo leak?
As if a strange year couldn't have gotten any stranger, in September 2011 Johansson was revealed as the victim of a hacking—personal, intimate photographs, intended for Reynolds, suddenly went viral on the Internet. Rather than cower, she called in the authorities. The alleged perpetrator was arrested and charged with multiple felonies. "It wasn't just me," Johansson says. "It was others. I don't want to be a victim and say, 'Oh, well' and just hide my head in shame. Somebody stole something from me… . It's sick. I don't want people like that to slide."

The incident clearly still rattles her. "When all those photos came out, of course I go out to dinner and think, Goddamn it, these people have all seen my… ." Johansson's voice trails off. "That's terrible. You know what I mean? You can't not think that. Even if they haven't, you're paranoid.

"I don't want pity," she says. Her solution, she says, was "tuning it all out"—to stop paying attention to the gossip and the endless churn of celebrity coverage. She says she had never paid much attention to it before, but she imposed a strict blackout. "I have to say I'm way happier because of it," she says. "It's nice. It allows me, I think, to be more creative. It's nice not to be so self-aware."
Fair enough. And interesting to see Vogue address a topic that they'd normally tiptoe around in favor of describing an actress's lunch choices.