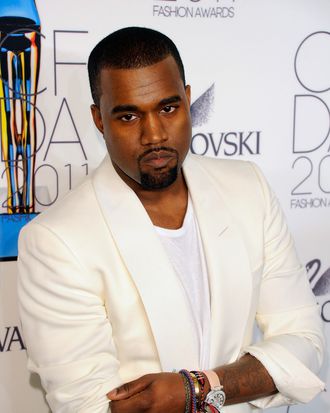 Kanye.
Photo: Andrew H. Walker/2011 Getty Images
Obviously in no mood to be one-upped by Nicki Minaj in the name-dropping department, Kanye West gives Anna Wintour (and Anja Rubik) a shout-out in his new song, "Theraflu":
Dinner with Anna Wintour, racin' with Anja Rubik / I told you mafuckers it was more than the music / In the projects one day to Project Runway / We done heard all that loud-ass talkin', we used to it.
He also admits to falling for Kim Kardashian ("And now I admit I fell in love with Kim / Around the same time she fell in love with him / Well that's cool baby girl, do your thing / Lucky I ain't had Jay drop him from the team"), clearly alluding to having Jay-Z fire Kris Humphries from the Nets. How … gentlemanly?