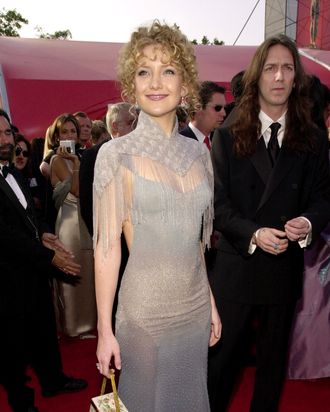 The infamous Oscar dress.
Remember that disastrous dress that Stella McCartney made for Kate Hudson when she was nominated for an Oscar in 2001? (Remember that Kate Hudson was nominated for an Oscar?!) At today's Vogue festival in London, the two old friends had a heart-to-heart about it.
Hudson: I'll never forget [the first time I met McCartney] … she was so cool. In this big doorway at this party and standing with Keith Richards, and I was like "Are you kidding? That's just too much!"
McCartney: I take Keith with me everywhere I go. He's actually in my handbag.
Hudson: And then we became good friends. And I got nominated for an Oscar [in 2001] and she made the notorious Worst-Dressed List dress … I was so excited. I couldn't believe that she was making me a dress. And it was so personal, I mean Stella was literally at the house sewing the hem — which by the way didn't last, at all. And I felt so beautiful, and I have it in my closet still to the day. So, then I don't even know if it was my decision, but I had this hairdo that …
McCartney: I blame the hair. I know it sounds like I'm trying to … but really. And the cape. I take responsibility for the cape.

Hudson: The purse was also a little too far. The Victorian box purse.
McCartney: I shouldn't have done that. But the hair …
Hudson: And that's how we met.
McCartney: And that's why she didn't get the Oscar.