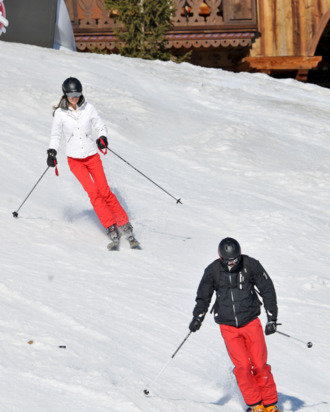 NO WEB OR BLOG WITHOUT AGREEMENT WWW.BAUER-GRIFFIN.COM Prince William and Kate (Catherine) Middleton spend time together in the Alps slopes honing their winter sports skills. William and Catherine had been apart for two months during Prince William's recent deployment in the Falkland Islands. The party included Kate's brother and sister, Pippa and James, and their parents Carole and Michael. Pippa who just finished a 56 mile cross-country ski race in Sweden also brought ex-boyfriend and room-mate George Percy. The whole group who stayed in a huge chalet left early each morning to get to the tops of local mountains because of the lack of snow at lower elevations. Their location also allowed them to ski in many different valleys. Rep 95013EF France, March 27/28th 2012 EXCLUSIVE wwwbauergriffinonline.com
Kate Middleton was joined by Prince William, her parents, and Pippa (who brought along possible-boyfriend George Percy) on a ski holiday in Les Trois Vallées region of France at the end of March, but we just got hold of photos today!* To hit the slopes, Kate wore bright coral ski pants and a white jacket. She accessorized with a black helmet and goggles — safety first. See the the duchess looking oh-so-sporty in our updated Kate Middleton Look Book.
* This post has been updated with the correct date for Kate's ski holiday.