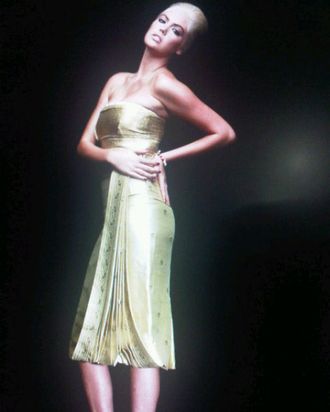 Kate Upton!
Photo: Courtesy of The Metropolitan Museum of Art, Photograph by ? Toby McFarlan Pond.
Apparently just now noticing some photos that came out in February of the forthcoming Costume Institute exhibit "Schiaparelli and Prada: Impossible Conversations," LOVE magazine tweeted, "Kate Upton starring in the Prada Schiaparelli Met catalogue" with a link to this picture (shown). Wouldn't Kate Upton be an awesomely unexpected choice and make that Victoria's Secret casting agent feel even worse (assuming she feels bad in the first place, of course)? And as it turns out, it is her!* A spokesperson from IMG Models confirmed that the photo was shot in January. So, hooray for Kate! Hopefully this means she's secured herself an invitation to the Met Ball.
* We initially believed that the photo was taken in 2004; it turns out that the dress in the photo is from 2004, but the photo itself was taken this year.