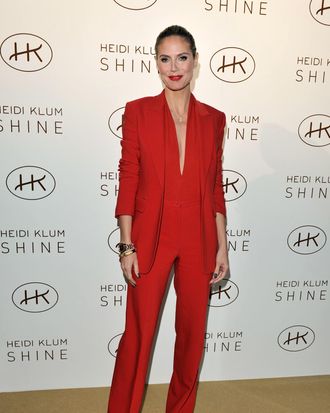 Heidi Klum.
Photo: George Pimentel/WireImage
Heidi Klum announced today that she's partnered with Babies 'R' Us on a collection for infants and toddlers. And not just easy stuff like cute tiny onesies and socks — she's outfitting the full nursery, right down to strollers, diaper accoutrements, and spit-up bibs. She tells WWD:
I made beds, curtains, blankets, washcloths, bath toys, wall decals, lamps, rugs, hampers, stuffed animals, security blankets and night lights. If you think about the nursery, I'm doing everything.
As most celebrities-slash-designers do, Klum cites her personal experience with all of these products as the source of her ideas. As a mom of two boys and two girls, she says: "I know a lot about dinosaurs. I've tried to come up with really cute magical things, like dinosaur footprints." Also, a blanket printed with monkeys, snakes, and underwater scenes, which is "much better than just laying on a pink blanket," she says. "I think it's something that stimulates brain development." Oh, so monkey prints make for smarter babies? Surely Miuccia Prada knew that all along.