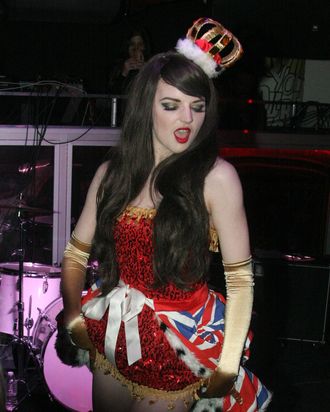 Katrina Darling.
Photo: Splash News/www.splashnews.com
If you happen to have a very patriotic British grandmother who's recently learned to use the Internet only to read stories about the Royal family, and play Hearts, you might want to warn her about this news — she'd likely be a little scandalized, though few others would. Katrina Darling, Kate Middleton's burlesque-dancing second cousin (second cousin once removed, to be exact), is currently pitching a reality television show to chronicle her strip-tastic exploits.
Darling made her Stateside debut at a Soho nightclub last month, and the series — working title: God Save Katrina Darling — would follow her travels across America performing at other venues in Miami, Las Vegas, and more. The footage will be interspersed "with images of Middleton and Prince William's royal wedding and expressive photos of Queen Elizabeth, Prince Charles and other [royals]" — because, of course, a picture of Camilla Parker-Bowles looking shocked is as close as she'll get to an actual blue-blooded cameo. We're guessing the infamous photos of Duchess Catherine in that St. Andrews fashion show will make some sort of appearance, too.
While the show awaits interest from TV networks, an L.A.–based production company has signed on — and with taglines like "the Royal family caught with their pants down," it can't be long before there's (at least) a cable deal in place. After all, the concept screams TLC.
Update: And here's the would-be show's trailer in all its stock photo glory.