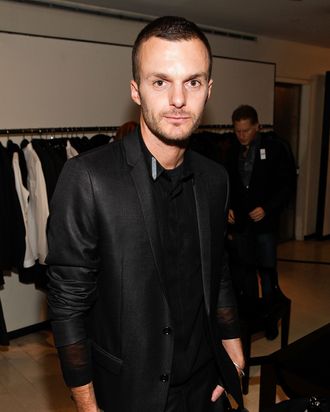 Kris Van Assche.
Photo: Paul Morigi/2009 Getty Images
It's been three weeks since Cathy Horyn broke the news about Raf Simons replacing John Galliano at Dior (and since Simons "expressed delight at the appointment"). Surely by now, Simons would have participated in some sort of orientation to acquaint him with his new role as artistic director — a tour of the fashion house and its facilities, icebreakers with the design team, or trust falls with Bill Gaytten and Bernard Arnault. But at the opening of the label's pop-up store in Soho on Thursday night, Dior Homme designer Kris Van Assche told WWD he has yet to meet Simons:
"We've never been in the same place at the same time so we never got close. But I hugely admire his work," he noted.
The reporter pointed out that both Van Assche and Simons are, in fact, Belgian, so perhaps they share "design commonalities," to which Van Assche responded, "I think it's a bit of a cliché, no?" Yes! But it does mean that the two can speak Flemish about everybody else at Dior without anyone else understanding. Now go get 'em.