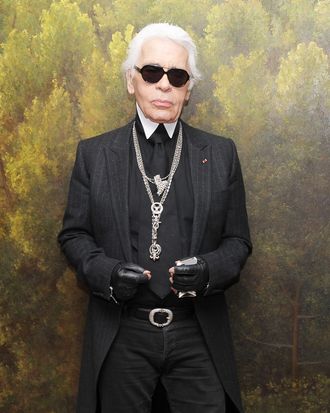 Karl Lagerfeld.
Photo: Jun Sato/WireImage
Chanel won't deny or confirm that Karl Lagerfeld sent "a collection" of the label's handbags to Adele as an apology for calling her fat in an interview with Metro World News back in February. The rumor began in the most dubious of places: British tabloid The Sun, whose "source" said that Karl "really wanted to make it up to her so they could maybe work together in the future. He could see her fronting a campaign for Chanel Mademoiselle bags when the contract with Blake Lively ends." A spokesperson for the house told British Vogue that they had "no comment" to make on the reports.
In other (decidedly less salacious) Lagerfeld tidings, Karl will guest-edit the May issue of Architectural Digest's French edition (on top of doing the landscape design for the Hotel Métropole Monte-Carlo, of course). In the process of putting together the issue, Lagerfeld admitted that he used to write about interior decorating for various French magazines under the pseudonym Magnus Dancourt. (Magnus is his middle name, and Dancourt "because it's very French," he explained to WWD.) Also, he's apparently into lap pools these days. Because if Karl's going to have an indoor water feature, it'll obviously be one that burns calories.
Related: 
Karl Lagerfeld Tries to Rectify His Comment About Adele Being Fat
Karl Lagerfeld Calls Adele Fat, Loves the Obamas, and Says Something Weird About Pregnant Women