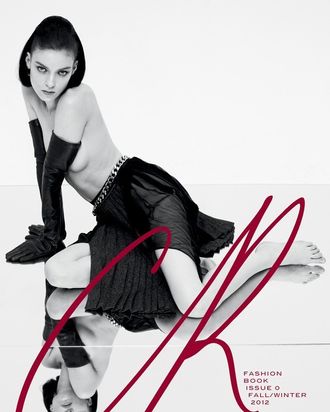 A mock-up cover for Carine Roitfeld's new magazine.
Photo: CR Fashion Book
New details about Carine Roitfeld's long-awaited magazine are out. It'll be named CR Fashion Book (or CR for short), with the initials written across the cover in Roitfeld's handwriting. "The name's not a big surprise, but oh well," she tells WWD (our prediction was so close!). As previously reported, the book will debut in September under Fashion Media Group LLC (Stephen Gan's New York–based company, which also publishes Visionaire, V, and VMan) and come out twice annually.
The 288-page premiere issue will feature approximately 100 ad pages, with advertisers including Gucci, Chanel, Giorgio Armani, Cartier, and Louis Vuitton onboard (Roitfeld says advertisers were "very receptive and eager to participate"). WWD has a few pages from the magazine's mock-up that was shown to advertisers — so, not the real issue, but something like it — which features a cover starring model Kati Nescher and fashion spreads shot by Sebastian Faena. In addition to the magazine's paper edition, a corresponding website will contain shorter, newsy pieces.
Roitfeld describes the magazine in the following quotes:
"I hope people will want to keep it — trendy and timeless at the same time."

"C'est jolie, non?"

"Not necessarily safer, but different."

"It will always be edgy. Maybe it will be more mental than physical."

"Vogue is a very beautiful magazine, an institution, and I learned so much working there … You can't put yourself into competition with a magazine like Vogue; you have to create something new, something different. The page has been turned … It's time to find something new, something fresh — for me and for the readers."

"I find that some people in fashion are so blasé. Fashion has to be fun."
In other news, she'll be a grandma — a "babuschka," as she says — in just six weeks! The magazine's offices will be based at The Standard, East Village hotel. Can't she just buy an apartment here already?