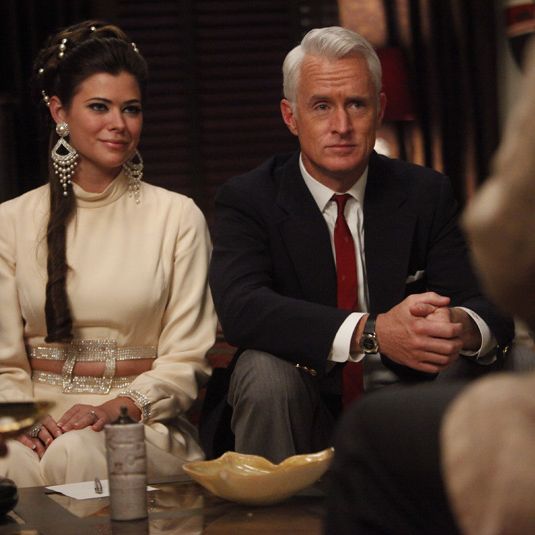 Photo: Michael Yarish/AMC
There weren't many costume changes on last night's Mad Men (and no Joan or Betty), but Roger's wife Jane makes up for the episode's lack of sartorial variety by wearing a fabulous two-piece getup that bares her midriff and connects at the waist with a sparkly belt buckle. So dressed, she takes Roger to a dinner party at her psychiatrist's house, where they all do LSD together in a stuffy-looking Upper East Side living room. Meanwhile, Peggy goes further 'round the bend in a schoolmarmish dress, Megan repeats an outfit from the season's first episode, and Roger wears a pink towel turban. Enjoy our full fashion recap of last night's episode.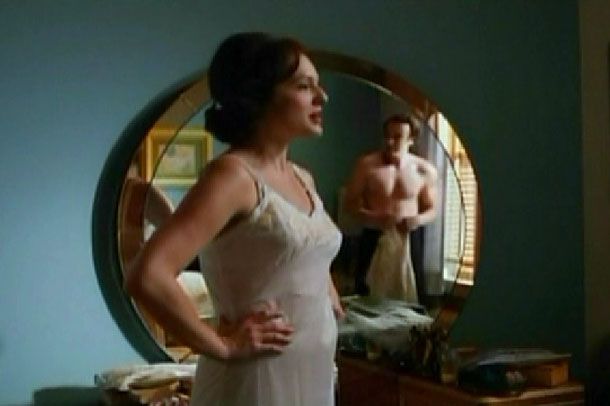 Peggy's breakup undies
Morning breakups are just the pits. It's impossible to feel like you've gotten the final word when you haven't even made it past the foundation garment phase of your day.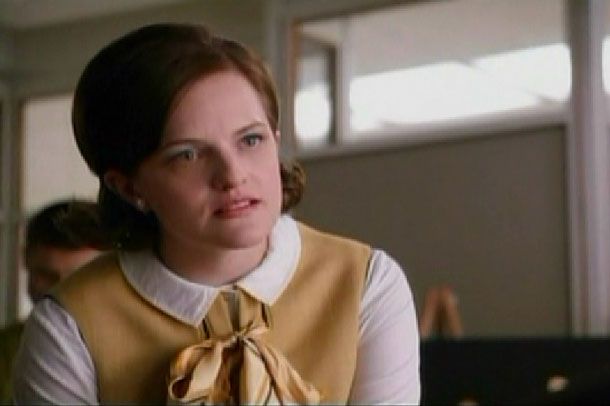 Peggy's prim neckwear
Peggy's neck embellishments have been a regular presence this season, and they dangle menacingly when she pounds on the conference table. Later, when she gives a random dude a hand job while smoking pot in a movie theater, her outfit looks comically prissy.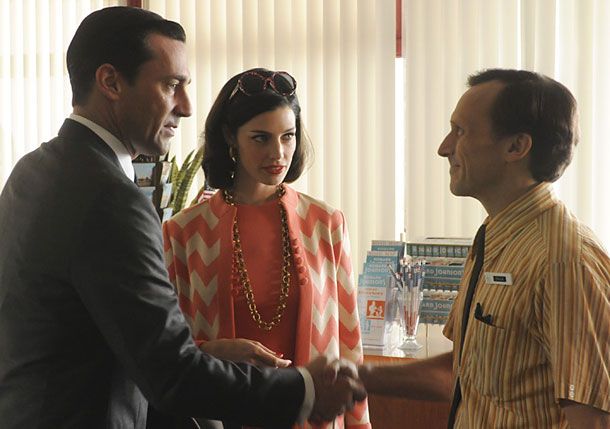 Megan's matching mango dress and chevron coat
While Peggy is losing her mind back at the office, Don takes Megan on a nice jaunt upstate to check out a Howard Johnson's hotel for "work." Megan is annoyed that Don has pulled her out of an important presentation, but does her best to pretend to be excited about the hotel's orange sherbet, which Don won't stop raving about. It's surely no coincidence that (a) the sherbert matches Megan's pinkish-orange dress, and (b) she doesn't like it, which leads to a huge fight between her and Don. In other news, she wore this exact same outfit (minus the gold necklace) on the Monday after her notorious "Zou Bisou Bisou" performance at Don's birthday party.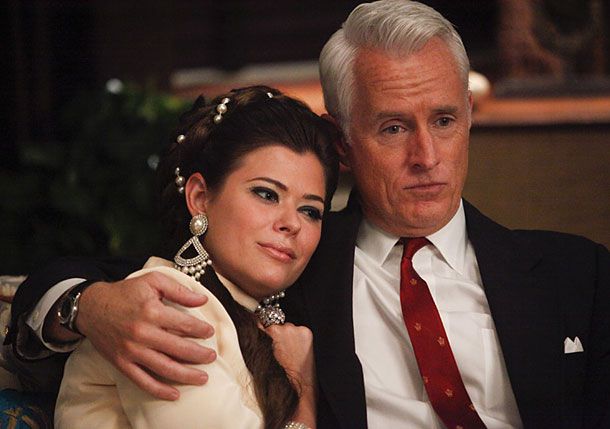 Roger's boring tie
Gauging by Jane's taste, it's safe to say she didn't pick it out for him.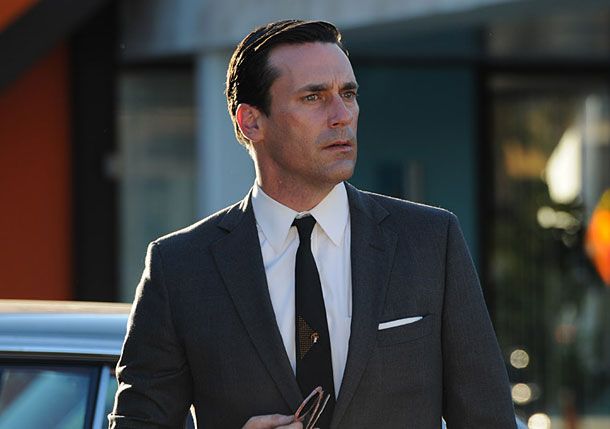 Don's fascinating tie
Really, what is that little thing on his tie? A miniature lighthouse? Half a Cheez-It? A tiny cannon shooting rays of gold? Megan probably bought it for him.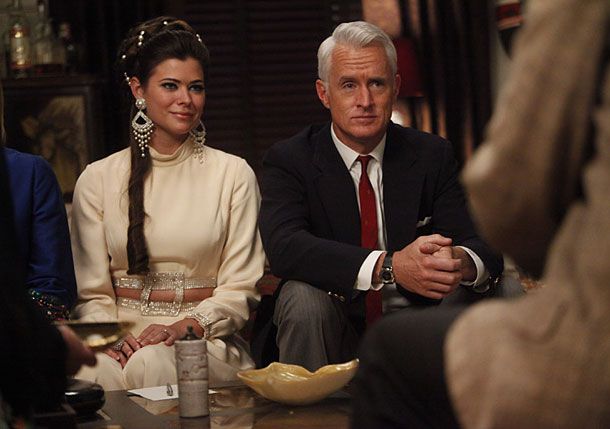 Jane's genie outfit
The only thing more impressive than Jane dragging Roger to her own shrink's LSD party is her genie outfit, complete with bare midriff, palazzo pants, and a Princess Leia braid-bun. "I wish I'd worn something more comfortable," she complains to Roger on the elevator. We know she secretely doesn't, and Roger doesn't care either way.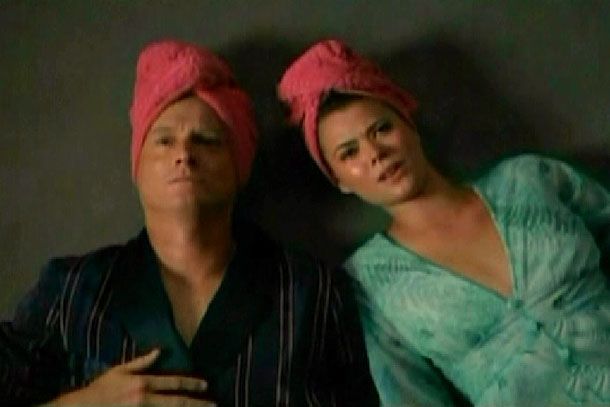 Roger and Jane's matching pink turbans
While tripping on LSD, Roger and Jane bathe together and then lie cheek-to-cheek on their bedroom floor in twin towel-turbans. Their marriage may be over, but at least they'll always have this memory. Or not.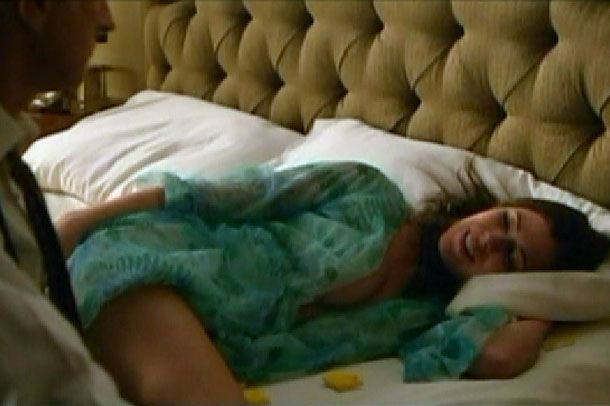 Jane's J.Lo–esque nightgown
Of all the ways to wake up after an LSD-fueled divorce talk with one's husband, Jane's doing pretty well with her sexy green robe and comfy bed strewn with rose petals.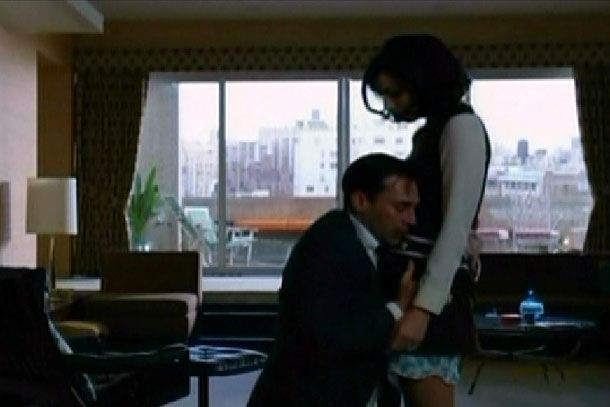 Megan's forgiveness dress
Don and Megan's fight reaches a dramatic zenith in their apartment, when he chases her down finally and wrestles her to the floor. Unlike their last "floor-wrestling" session, this one involves a lot more tears and a lot less sex. It also reveals Megan's festive green slip. In other news, does anyone interpret Don's belly-centric hug (and Megan's incessant hunger at HoJo's) as pregnancy foreshadowing? Just imagine the muumuu possibilities!