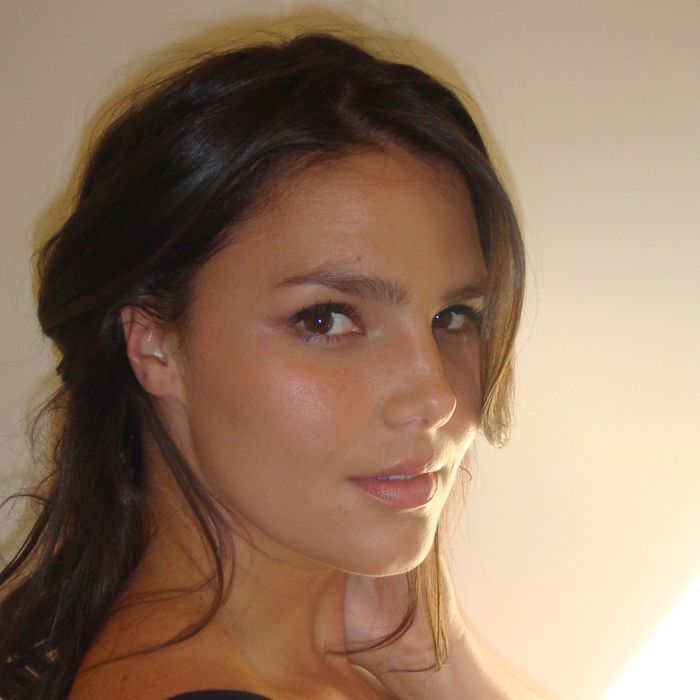 Okay, so, 27-year-old Candice Huffine isn't exactly a new face. The Maryland native (what up, MoCo!) transitioned from being a teenage beauty queen to signing her very first modeling contract back in 2000. While Huffine was long successful in the lucrative commercial market, she just recently crossed over into the world of high fashion. Sølve Sundsbø was first to book the size-thirteen beauty for V magazine's Size Issue in 2010, and then, upon meeting top stylist Edward Enninful, the rest, as they say, is history. Huffine was featured on the cover of June 2011's Italian Vogue, nabbed another Steven Meisel shoot for W magazine, and most recently, appeared in W magazine's March issue, shot by Mert and Marcus. Fresh from a Camilla Akrans editorial shoot, the model with Choctaw Indian and German roots stopped by our offices to discuss her pageant days, working with Enninful, and what changes she'd like to see in the industry.
Tell me a bit about your childhood.
I was born in Georgetown, D.C., but grew up in the suburbs of Maryland. My childhood was wonderful. I was a girly girl. It was to the point where [my mom] asked my daycare center if they could change the playground from a sandbox to wood chips because it made me too dirty. I was a cheerleader, I was in singing lessons, dance lessons … you know, all those little well-rounded things. I was kind of a teacher's pet. I did pageants, so it was a very sweet childhood with frilly dresses and things. It makes me tired thinking about all of this, actually. Thanks, Mom. [Laughs.]
Wait, so you were a beauty queen. Was it anything like Toddlers and Tiaras?
I know, it sounds scary because pageants do not have a very nice light around them right now. [People] wrote or called me and asked, Was that you? Is that was it was like? And I'm like, absolutely not, I did not have fake teeth, no fake hair, my mom would put a little bit of lipstick on me maybe, and that was it. I did pageants since I was a full-on baby up until about I was 14. It was around this time when people kept saying I should go to New York to try modeling. But this was beyond us because I already thought I was a model, I didn't know what the difference was.
When did you begin modeling "for real" then?
Well, after we got more information on [the business], we came to New York for a couple days and did a bunch of open calls. We took some pictures in our front yard — not knowing what we were doing, we were just kind of winging it. I was given a contract that day, but there was some rejection involved.
Which is common in this industry.
But try telling that to a 14-year-old. A few places wanted me to lose weight, and I was like, "Oh, okay, maybe that's common?" I was a size six, so I thought I was hot stuff. I was a freshman in high school, tight little body, thinking, I'm going to be a model. And then when someone is like, "I need you to lose fifteen pounds." I [was] like, "How do you do that?!" And then when I finally was handed a contract, the stipulation was that [they're] signing me under [their] plus board, and I never looked back.
So, you started as a plus-size model, instead of going from straight to plus like many plus-size faces I've interviewed.
Yeah. I'm really grateful for that, actually. I don't want to make it sound like the slim girls live a terrible life. They don't. For me, personally, if my body wasn't meant to be that way and I had to struggle with that for many years, I would be a wreck. Obviously it's hard because when I was 14, the losing fifteen pounds thing wasn't even an option for me. I was kind of like, I'd rather go home.
That's great. You started out modeling at a young age. I'm curious to hear your thoughts on underage models. They are still very much in high-demand.
I know, I really could not imagine. I don't have anything to compare it to. I know me as a 14-year-old in school, I wasn't working that much; I was in high school, just learning how to drive and flirting with boys … My mind was not about flying to Paris for a campaign. I'm ready for that now, this is something that I can totally handle and [am] ready for and love; but at 14, I just feel like they battle with never feeling like a teenager — which is so fun.
A few years ago there was more stunt casting with plus-size, Asian, and Black models in spreads, whereas today things have become more inclusive. In your March 2012 W magazine spread, you were shot alongside Mariacarla Boscono and Karmen Pedaru without any hint or emphasis placed on you being "plus-size."
Thank you. I really appreciate everyone at W magazine for not making it like, our token curvy body, our plus-size model. It was like I was a model just like the rest. This is the evolution of what we're trying to do [with plus-size modeling].
Which is much more organic than making it about all the plus-size girls or all the Asian models for just that one time.
Yeah, that once a year we're going to do one issue that features all different shapes and sizes, you're welcome. That's all you get, like, here's your one time a year to buy this magazine. That's crazy. Why couldn't a girl that's a size fourteen buy W all the time?
And they do.
Exactly. But then that person can relate to it, which is exciting. When you're like, "Oh my gosh, she can wear that Gaultier body suit?! I can get that then." You know what I mean? Everyone wants to see it.
I think what's great about Edward is that he seems to book models on his own accord and not on who's en vogue. He recently expressed his love for you on Wmag.com. How did your working relationship start out with him?
It started out at Italian Vogue and, I mean, I have to be honest, I will speak very boldly for the other girls [who shot alongside me], that we were all kind of a nervous wreck. But how could you not be scared out of your mind? We were all singing and dancing in the fittings, and we just kind of bonded with each other. It was like I was hanging out with old friends. I really loved it. I actually e-mailed him recently and was like, "I feel like everything changed after I met you." He's just kind of taken me under his wing, and I could not be more thankful for it.
So, editorially, plus-size models have done increasingly well over the years but not on the runways. In your mind, what will it take for that to change?
During this past Fashion Week, my husband was like, "So, do you have anything going on for Fashion Week? Anybody you're going to see? What's going on?" And I was like, "No, nothing." After that, I was thinking, That's really sad. You saw Crystal [Renn] and Marquita [Pring] walk for Jean Paul Gaultier a few seasons ago, so I was like, Yes, here we go, and then it didn't really pick up after that. So I don't know what it's going to take. Let it be known, we can walk, trust me.
It really doesn't make much sense. It's not like the women who are buying these clothes are all size zeroes — at least not naturally.
Honestly, I'm surprised that the consumer hasn't kind of kicked up a fuss about it, because we heard it for so long from magazines, it was like, Show me real people, show me different kinds of bodies! But then the runway continues to stay the same. There was a bit of a firestorm behind the girls being too skinny a while back, but then there hasn't been kind of another big event. They're too skinny, but it hasn't been like, All right, let me show you something new here. Everything keeps changing slowly, but surely, so I'm not discouraged; it can only get better, and it will.
When I met with Robyn Lawley last year, she told me she has to work hard to keep her weight from fluctuating. Is it similar with you too?
I have to work extremely hard to keep it, but I think it's mainly a feeling: If you feel like you are a little puffy or maybe you have a few extra pounds on, of course you're going to make changes to do so. But there's no real pressure to hit the gym every day. Also, I say this all the time, but the plus girls in this industry are some of the healthiest people I've ever met in my life. It's not like we're having parties at McDonald's. The girls I know, they're all doing yoga, run three miles a day, and they eat healthy, balanced meals.
Actually, that was my next question. What's your diet like?
I prefer to cook because then I can control — like, I don't add butter into my meals because then it just all becomes a little too rich. Every meal has a side salad, so it's usually a meat, a side salad, and some sort of starch. My husband makes the pasta, he's good with that. I don't use a lot of salt in my diet just because I have an aversion to it. Also, you know when you've had too much bad stuff in your diet as your skin starts looking crazy and you feel gross.
What's one thing we have in Maryland that you cannot find in New York, Milan, or Paris, aside from friends and family?
For a moment, I thought you were going to say aside from crabs; I was like, Crabs! Blue crabs. Tell me you know how to pick blue crabs, right?
Obviously. We're all about crabs and the Redskins. Final question: What else would you like to accomplish with your career?
It's not an I-want-to-be-famous thing; I just want the straight-size and plus world to not have a division. We don't need to be separate anymore. Hopefully it will get to the point where I could be the next CoverGirl, because who's to say that just because I don't have a "perfect body" that I can't be a spokesperson?
Model Profile: Candice Huffine

Explore other rising stars (plus all the big names) in our extensive Model Manual, featuring runway pics, glamorous editorials, model bios, career timeline, and more.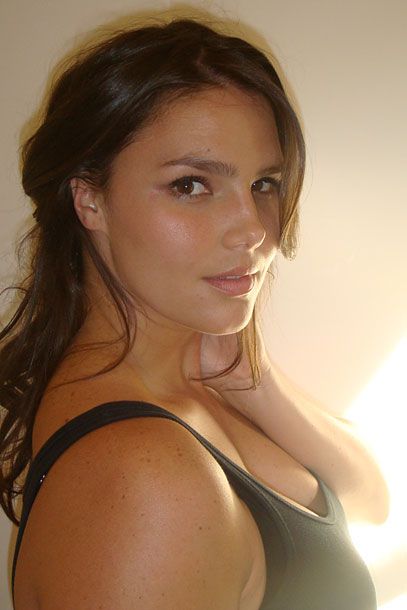 Head shot.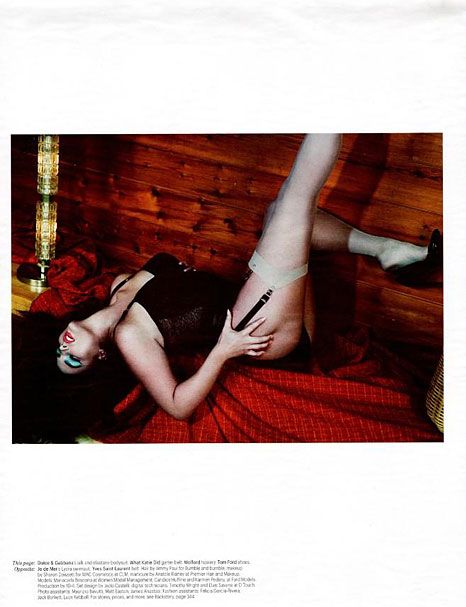 Shot by Mert Alas and Marcus Piggott for W magazine.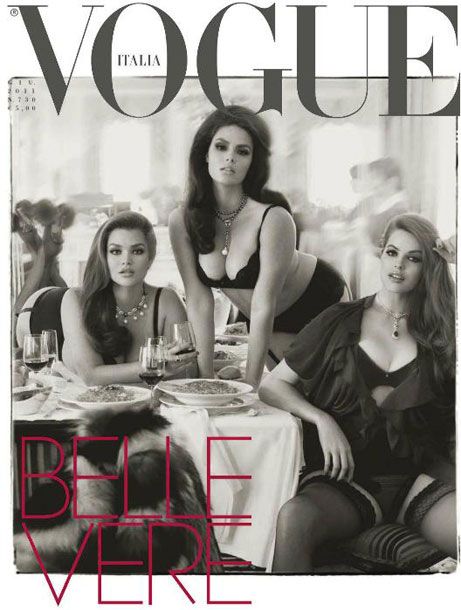 Shot by Steven Meisel for the cover of Italian Vogue (center).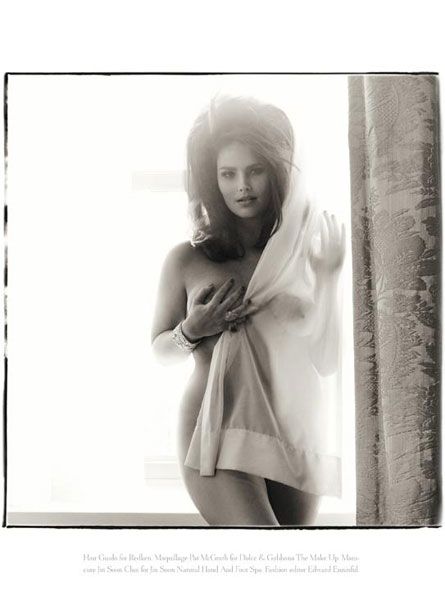 Shot by Steven Meisel for Italian Vogue.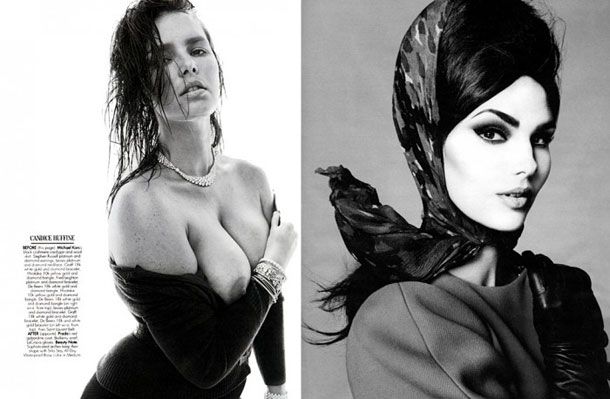 Shot by Steven Meisel for W magazine.