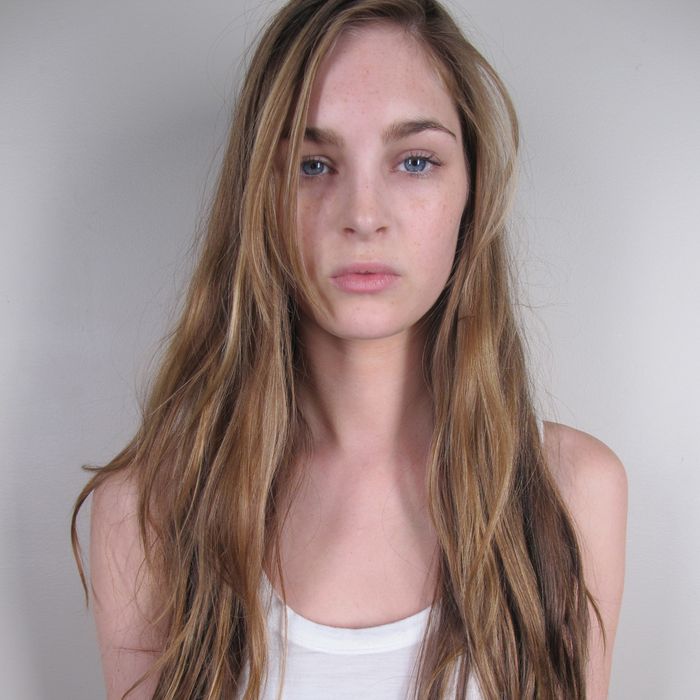 Photo: Courtesy of Ford Models
Industry folk might tie 20-year-old Laura Love to her mother Lisa Love, senior west coast editor of Vogue and Teen Vogue, but she'll have you know that she's ready to step out of her mother's shadow. The Los Angeles native is part of top model agent Paul Rowland's Ford editorial division, which helped place Love on the fall 2012 runways at Sophie Theallet, Band of Outsiders, Mark Fast, and Vivienne Westwood. During her two-year career (so far), she's done quite well editorially, landing spreads with Peter Lindbergh for Vogue and Bruce Weber for French Vogue. The young Brooke Shields look-alike stopped by our offices to chat about her years studying ballet, Weber's matchmaking skills, and her love of sashimi … and she answered the age-old question: New York or L.A.?
Let's start by talking a bit about your childhood.
I grew up in the Los Feliz area of Los Angeles, California … Basically, my whole childhood years were spent dedicated to ballet. I was a major tomboy, though. I was the fastest girl in my class, and I would always play male roles in our little school plays. Oh, and I had super short hair, but it wasn't like a cute tomboy look; it was more like snowboard shorts and Volcom T-shirts with colored hair, always. My older sister, Nathalie, was the opposite [of me]. She was like my mother, being very interested in fashion. I didn't hang out with any of her fashionable friends. I was pretty independent in my own thing, until now — here I am following in their footsteps working in fashion. [Laughs.]
With ballet being your primary focus, when did you decide you wanted to model?
Around the time I graduated high school. I had a contract with the Los Angeles Ballet straight out of high school, and that's what I thought I was going to do. When I had two months off training, I spent time in New York, and that's when it would come up a lot [about getting into modeling]. Actually, when I was younger, Mario Testino once told me, "Stop dancing — your thighs are going to get too big for modeling." Luckily, that didn't happen. So after spending a lot time in New York, I started going on meetings and castings, and that's how I got set up with Ford Models.
I've met quite a handful of models who studied ballet in their teen years, too. Is there a connection between the two?
It's super interesting to me because I didn't know much about the fashion industry or modeling. But, I do feel it's similar in a lot of ways. Both professions require one to know their bodies really well, and to have discipline, like understanding how to move and make shapes. If you know your body, it's not as awkward when you're modeling because you're already super conscious. Also, for me, [when I started to model] I felt I finally had freedom; I have a social life, I'm around people who are artistic and different, instead of the routine of dance because you don't really have time for anything else.
From your short career thus far, tell us a memory that you hold dear.
I think I've had a lot of crazy experiences that I will remember forever. My first [fashion] show I ever did was for Fashion's Night Out at Lincoln Center. The show had over 300 models, and it was the dead heat of summer. I was in a look that had me in, basically, all fur. Pat McGrath did my makeup in this huge unibrow, and all the top models did the show: Gisele, Naomi, Karlie … it was pretty major. I was only 18 at the time and thought, Oh my gosh! And then, when I watched the show afterwards, you can see my tiny head with fur bobbing between these tall supermodels. I was like, Oh my God, I'm never doing this again. I'm out. This is so embarrassing. But here I am.
When you go to castings, what is the first thing people comment on?
That I'm very petite. I also get the strong eyebrows thing. Usually, they know my mother and [they talk about] how much they love her. Lately, though, I've been told that I remind people of Brooke Shields when she was super young.
So, your mother is Lisa Love, senior west coast editor of Vogue and Teen Vogue, and I not-so-shamefully remember her from The Hills. Do you ever experience nepotism?
That's been coming up a lot. Everybody loves her, she gets along with everyone. Maybe that didn't come off when watching The Hills, but she has a lot of friends; she's been around for ages.
But how does that apply to you?
It's "Mother knows best" a lot of the time. It can be hard because all these photographers know my mother, so people tend to relate to that. Honestly, it's great to have her on my side. Sometimes, it does feel a bit, like, awkward that this is my mom. I am trying to do it on my own and work with people she maybe doesn't know. I definitely think it's going to be a while before I do break out of her shadow, but I think I do pretty well on my own. It's a difficult situation, but it's good in some ways.
Let's now talk about that lengthy French Vogue shoot with Bruce Weber and Anastasia Barbieri.
Shooting with Bruce is one of the most exciting things that could happen to anyone just starting out in the fashion world. He literally makes magic on sets. I spoke to him about this dancer, Chase Finlay, a while before the shoot because I saw him perform with the NYC Ballet. He had actually shot him for something before, and he really wanted us to meet. A few months later, I got a call saying, "This shoot is happening, and it's the two of you." The images were shot in Miami, which is kind of home for Bruce, so he knows the ropes. He has a million homes, but one of his homes are there. [Laughs.]
Was it awkward having to pretend you guys were "in love"?
Bruce made it pretty comfortable. He's like a matchmaker — not that we're dating, though! [Laughs.]
And then you shot with Peter Lindbergh for Vogue, alongside Lara Stone. What was that like?
It was pretty amazing — I mean, Grace Coddington styled. It was pretty magical to see everything. She has every shot planned out before she's there. She has a vision. It's very, very professional. It's nice to see that sort of work happening. I was also pretty starstruck about Lara Stone, and it was photographed in a beautiful house.
Okay, let's move away from fashion now: Have you read anything good lately?
I keep reading my favorite book over and over; it's about the Cupid and Psyche. It's called The Golden Ass now. Oh my God, I wish I had it with me. I really like Greek mythology, so I've been reading it over and over again.
What about your diet?
I can't really cook. I can make a bowl of cereal pretty well. That's helpful. I don't eat any grain, although I love sushi, which has rice. I try to only eat sashimi: toro, yellowtail, and eel, which is not sashimi … Shh! I eat a lot of steak, fish, and salads.
What about your fitness routine?
I try and dance an hour and a half in the morning and then in the evening, unless I'm working on a shoot, so three hours altogether. I'm a big fan of Pilates Plus. It's "plus" because you get to listen to party club music while you're working out, like, "Yeah! Change your body!" I feel like I'm a workout promotional video.
All right, riddle me this: New York or L.A.?
Toughie. I think New York, for where I am right now in my life. I feel in New York the doors are much more open for opportunity. In L.A., it's sort of doors closed. If you have the key in, you have the key in, and you're limited to one thing. Here, I feel like you can try out new things and maybe end up in some field that you weren't planning on. But! If I didn't have L.A., I would be crazy. It's sort of like doing a juice cleanse … there can be too much hyperactivity and stimulation in New York, whereas in L.A. things are slower. [People live a] stoner lifestyle. [Laughs.]
Model Profile: Laura Love

Explore other rising stars (plus all the big names) in our extensive Model Manual, featuring runway pics, glamorous editorials, model bios, career timelines, and more.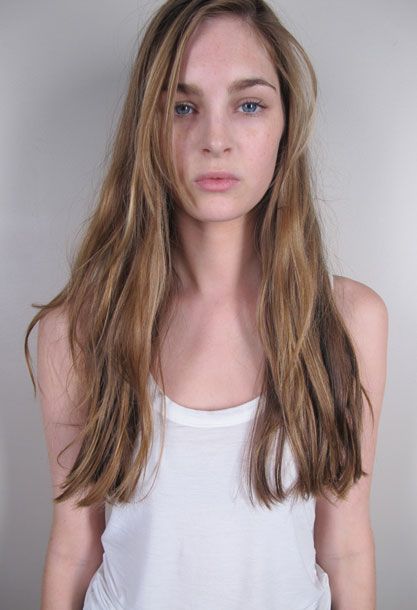 Head shot.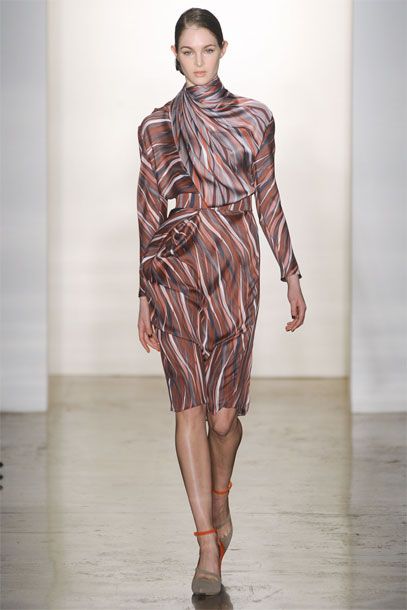 Walking the fall 2012 Costello Tagliapietra show in New York.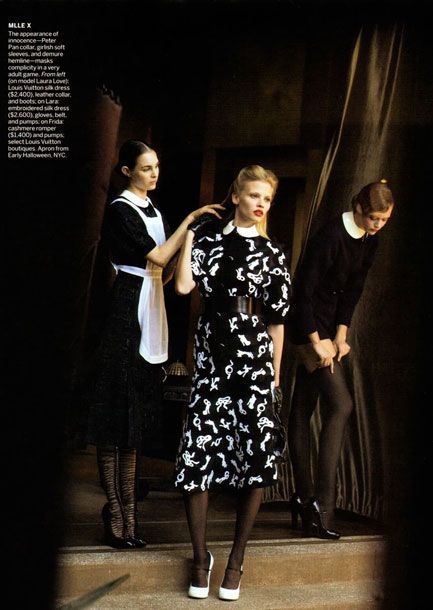 Shot by Peter Lindbergh for Vogue.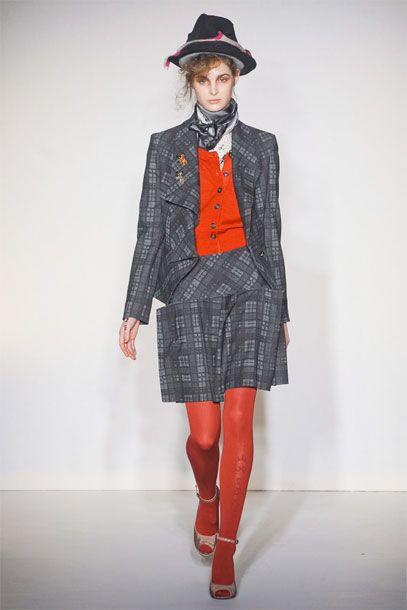 Walking the fall 2012 Vivienne Westwood Red Label show in London.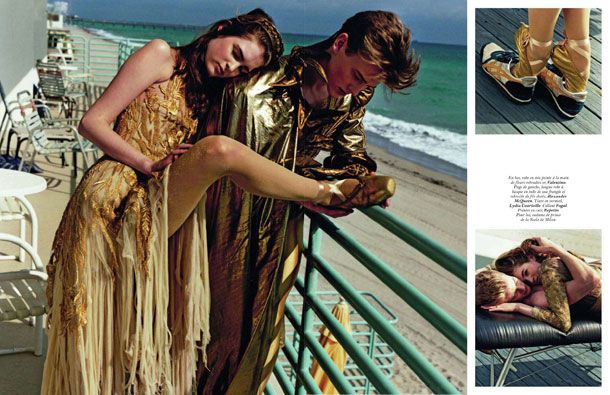 Shot by Bruce Weber for French Vogue.