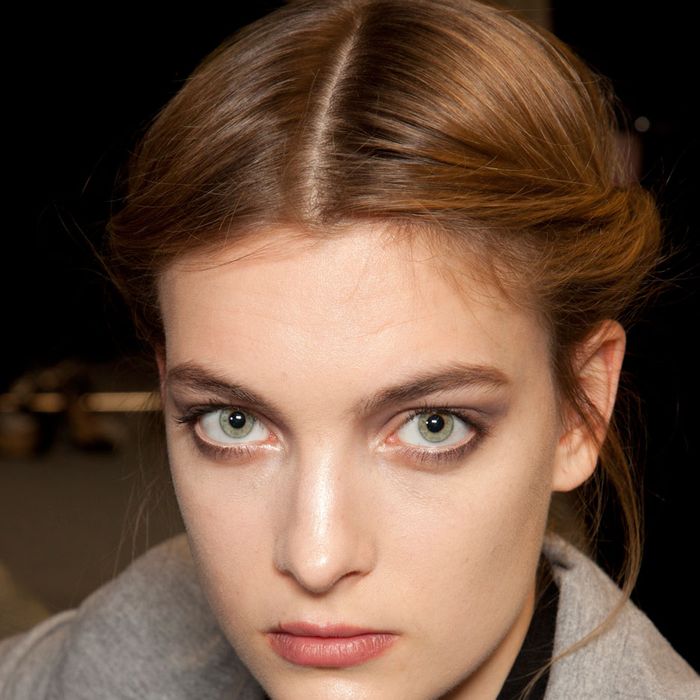 Ophélie Rupp is reaping the sweet, sweet rewards of her coveted spring 2012 Prada and Miu Miu catwalk exclusives. After those two key appearances, the Parisian scored a campaign shoot with Mario Testino for Etro's spring ads and posed for Dazed & Confused's March issue. During the fall 2012 shows, Rupp's flaxen locks and penetrating stare were embraced by the world's top designers, including Balenciaga, Dolce & Gabbana, Chloé, Valentino, Fendi, and Jean Paul Gaultier. The soft-spoken 21-year-old stopped by our offices this week to chat about killing time backstage, her childhood in Tahiti, and whether she Googles herself.
For the fall 2012 season, you walked a total of 43 shows in New York, London, Milan, and Paris. In which city were you the most exhausted?
London, because I started castings right after I got off my flight. But I was with my friends Julia [Frauche], Marie [Piovesan], and Nadine [Ponce] for most of the time, so it was cool.
Previously, you were an exclusive with Prada and Miu Miu for the spring 2012 season. Do you think that helped your catwalk bookings this time around?
Yeah, but it was hard for me in the beginning because I was in New York for three months, like, two years ago, and I was not very serious [about modeling] — too much going out and stuff like that. I worked [on] myself for six months before the spring 2012 season, doing a lot of sports and being active. So when I went to the casting for Prada in Milan, it was like my last chance because I was tired of modeling. [The casting] was really long. I waited for about three days to know whether or not I got the job, and after, I did the hair and makeup tests for the show with my friend and current roommate, Julia [Frauche].
You probably had a lot more free time then, as you only walked for two shows.
Actually, it was pretty hard. I think it was easier to do all the shows than be put on an exclusive. When you're doing the looks for a show, hours can get really long … standing in the same room all day for, like, two weeks. But when you're doing all the shows, you're running around everywhere, so things move quicker.
How did you kill time backstage this season?
I read a lot. Whenever I would find a French book at any store, I would just buy it, no matter what it was. I read about five books throughout all four Fashion Weeks. Currently, I'm reading L'Année de l'éveil by Charles Juliet. I bought it at the airport when I was in a hurry.
Did you run into any girls that were competitive, maybe even kind of catty?
Maybe some girls, for sure. It's like, the girl talked to you when we're all starting out in New York, but when you start booking big shows, they just stop talking to you — not even saying hello in Paris. That was strange. But it's not a lot of girls, most are nice.
You have a distinct runway presence from the other girls. You appear to be very serious, maybe even aggressive. What goes through your head when you're walking? 
[Laughs.] I was like that since I was really young. I saw a picture of me from when I was five years old, and I had that same face. It's so strange. When people tell me, "Be strong!" and things like that, I'm just like, "Okay, that's easy." Also, I was really stressed in New York, so maybe it was more visible then.
Stressed?
Because I didn't know if I was going to "make it" this season. After Miu Miu and Prada, while it's two really big shows, you never really know [if you're going to be successful] next season. Things move quickly.
Okay, let's go back now. Tell me a bit about your childhood.
I was born in a suburb of Paris. When I was 6, I moved to Tahiti for four years [because] my dad works for the army, but I returned to Paris when I was 10. I have an older, 25-year-old brother who's a professional swimmer, and my mother works at the post office. I was very athletic growing up, playing lots of sports. I started swimming when I was 4, and I have memories surfing and playing on the beach in Tahiti. For ten years, I studied tae kwon do. I quit at red one, just before getting the black belt, to start my modeling career.
How were you discovered?
When I was 18, I was working as lifeguard for my summer holidays and my booker in Paris found me, as he was swimming. It was funny, he got out of the pool and handed me a piece of paper with his information. I wasn't sure if I wanted to model, but I had just finished my first semester of studying biology at university, but I didn't like it at all. I checked the website and decided to meet him with my parents, so then I quit school and [decided to] try modeling.
What's your diet like?
During Fashion Week, I eat what I can … what I can find. When I'm home, I eat everything, but I'm doing a lot of sports so it balances each other out. After shows, I would eat pasta.
You mentioned several times that you're very active. What's your fitness routine like?
I have so much muscle on my legs from all my years of swimming so they were really big; it was really hard to lose it. I do a lot of abs work, and I ran a lot last week. I still try and swim sometimes, when I have time. I try to do something active 30 minutes every day.
Who are some of your favorite musicians?
In the mornings, I listen to a lot of house music. It helps me wake up. [Laughs]. I did that this morning, actually. I listen to everything, though. I'm not too difficult — maybe some French groups.
Do you consider yourself to be beautiful?
No, I don't think that. Maybe sometimes when I have the makeup on and it's more like, That's me? I think because my parents never told me things like, "Yeah, you're so pretty. You need to model." My brother was like, "Really? She can model?"
Do you Google yourself?
I tried one time, and I just saw someone say, "Yeah, she is too skinny," and it was at the end of Fashion Week, and I was really tired and I really was too skinny.
Model Profile: Ophélie Rupp

Explore other rising stars (plus all the big names) in our extensive Model Manual, featuring runway pics, glamorous editorials, model bios, career timelines, and more.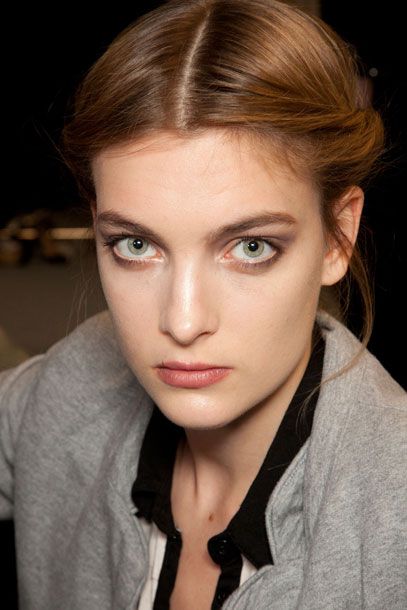 Backstage beauty shot at Valentino.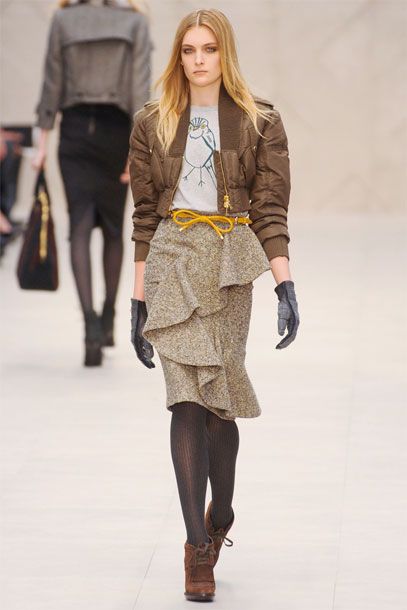 Walking the fall 2012 Burberry show in London.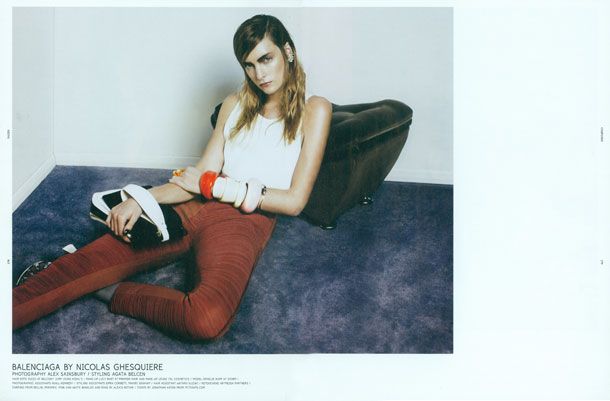 Styled in Balenciaga for Dazed & Confused's March 2012 issue.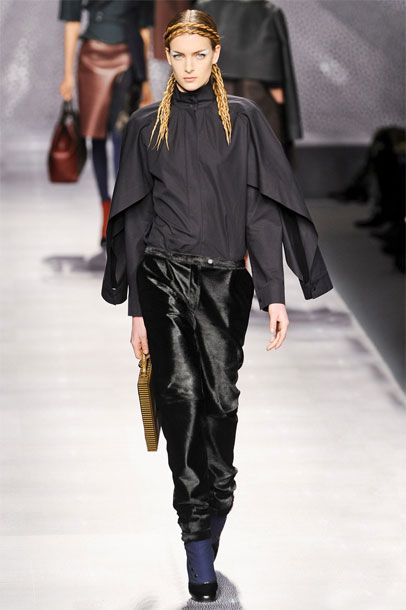 Walking the fall 2012 Fendi show in Milan.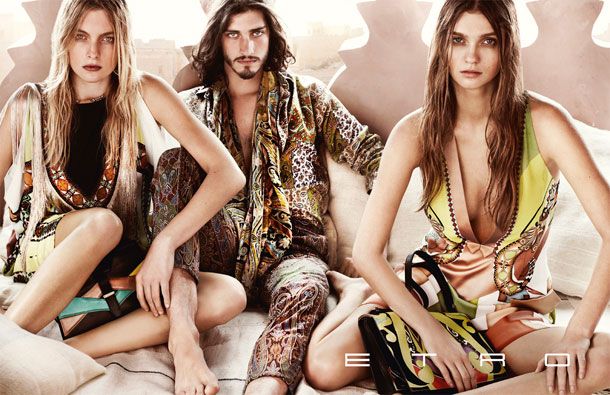 The face of Etro, spring 2012. Photographed by Mario Testino.