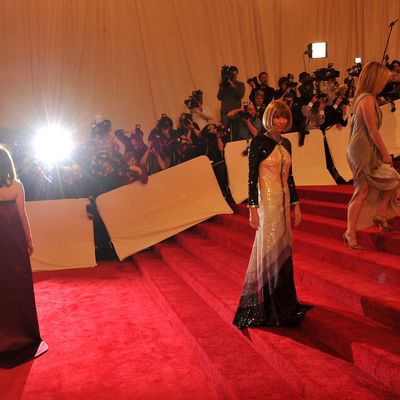 Like this, only live.
Photo: Stephen Lovekin/Getty Images
If the Costume Institute Gala is going to uphold its supposed reputation as "the Oscars of the East Coast," live-streaming was inevitable. Because what good is a red carpet crawling with models, movie stars, and other famous people wearing spectacular outfits if you can't gawk at them in real time as they awkwardly shuffle, trip, and pose their way to the doors? Thankfully, the Costume Institute Gala's organizers have wised up to this and will live-stream this year's arrivals with some help from their sponsors at Amazon. According to a press release, you'll be able to watch the whole thing on Vogue.com, Amazon.com/Fashion, and Metmuseum.org from 6:30 to 8:30 p.m. on May 7. 
As an additional bonus (and just to make sure this video is superior to anything produced by all the other schmucks with cameras who will be in the very same place), the live broadcast will have fashionable hosts — Elettra Wiedemann and Vogue's William Norwich — and include interviews with the gala's co-hosts, Carey Mulligan, Miuccia Prada, and Anna Wintour (plus whatever other celebrities feel like talking). Just think — it'll almost be like you're there in person! Except not really.