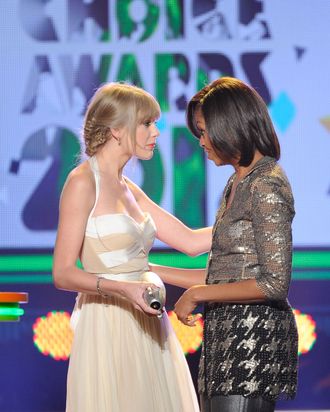 Taylor Swift and Michelle Obama.
Photo: Kevork Djansezian/Getty Images
The First Lady was on hand to present Taylor Swift with a silver blimp for all of her do-gooding at the 25th annual Kids' Choice Awards on Saturday night. She said, "It is my great privilege to present Nickelodeon's Big Help Award to someone who has rocketed to the top of the music industry but still keeps her feet on the ground, someone who has shattered every expectation of what a 22-year old can accomplish." Upon accepting her statue, Taylor remarked, "I'm so honored. I've always wanted to meet you. This is amazing. I'm so honored to be receiving this award from the First Lady of the United States." Freak-out!
Keeping with great Nick tradition, Michelle didn't escape the evening un-slimed. A few drops splashed her way during the show's finale when Justin Bieber — voted by fans as the celebrity they most wanted to see drenched in the stuff — picked up his blimp for Favorite Male Singer. For the occasion, Michelle wore a sequined houndstooth jacket from Wes Gordon's spring 2012 collection and shiny jeans.
Michelle will return to television screens this and next Tuesday, participating in The Biggest Loser's makeover and reunion shows. On part one, she invites contestants to the White House, and on part two, "she welcome[s] them to 1600 Pennsylvania Ave., and talks to them about how adult behavior impacts kid behavior — part of her Let's Move! initiative to solve the problem of childhood obesity," the Washington Post writes. Afterwards, they work on their fitness together. No slime and, sadly, no Taylor Swift, are involved.