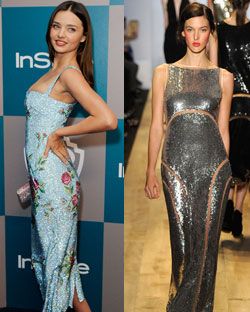 Miranda Kerr and Ruby Aldridge.
The list of models dabbling in music is growing longer by the minute. In fact, it's become quite difficult to keep track of them all, what with their singing loudly on elliptical machines at the gym in Brooklyn — they're everywhere. Vogue.com caught up with Ruby Aldridge at Coachella, who mentioned that her band, "tentatively called Texture," held its first concert at an art opening in New York a few months back.
We did a cover of 'Astro Zombies' by the Misfits and three of our own songs. I was so nervous about the show, I almost didn't show up! … I don't consider myself a musician yet. I'm just a fan who's excited to be making music for the first time.
Also excited, or at least exclamatory: Miranda Kerr. She told British Vogue, "I have recorded a couple of songs, actually, that no one knows about! You probably won't hear them but I love to sing!" She refused to discuss the genre or titles, but "açai" does rhyme with "you and me." This is the stuff of a chart-topping album.