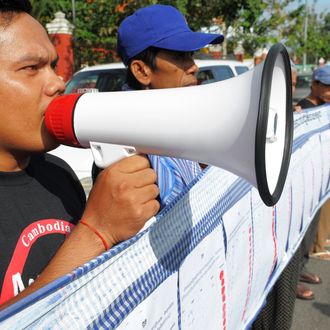 A Cambodian man shouts slogans as people hold a 230-meters long petition during a protest in front of the National Assembly building in Phnom Penh on December 20, 2011. Cambodian people and rights activists filed a petition at the National Assembly to request the body not to adopt a controversial draft of the law on Associations and NGOs. They said the law is being created with an intention to control rather than to promote and strengthen civil society, and as such it undermines the rights of the people and shrinks democratic space in Cambodia.
Photo: TANG CHHIN SOTHY/AFP/Getty Images
On Friday, 198 workers collapsed at the same factory that saw a spell of faintings two days earlier. "We are very concerned by this," said the secretary general of the Garment Manufacturers Association in Cambodia. Well, that's a start.