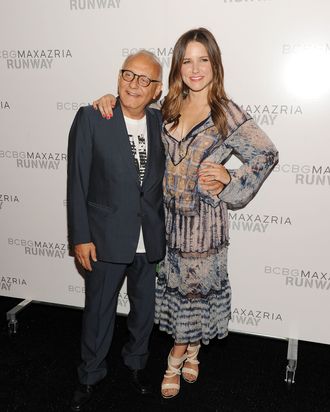 Max Azria with Sophia Bush.
Photo: Jason Kempin/2011 Getty Images
As previously reported, Max Azria's camp has vigorously denied the accusations made by businessman Jimmy Esebag in a $220 million lawsuit over a Playboy condom deal with Wal-Mart that didn't work out. (If Esebag's name sounds familiar, it may be because he was briefly engaged to model-actress Sophie Monk in 2011, but that's neither here nor there.) Anyway, a spokesperson for Azria points out that he and Esebag had a legal battle over a related matter in 2011, which Azria won. "Max was victorious in the prior arbitration relating to this matter, and we are confident he will also be victorious in the present lawsuit," she tells WWD.