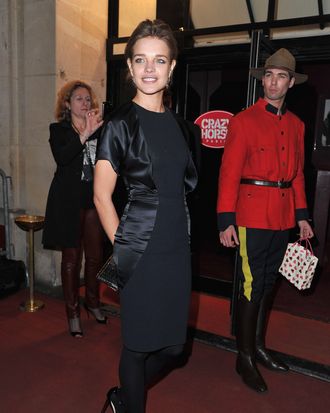 Natalia Vodianova.
Photo: Pascal Le Segretain/Getty Images
Natalia Vodianova's controversial comments about diet and weight at the Vogue festival over the weekend got lots of people riled up, and she wrote the obligatory "my quotes were taken out of context" response to her critics on her Facebook page last night. She says that the atmosphere of her discussion — which also included models Jourdan Dunn, Eva Herzigova, and Lily Cole — was humorous, and she and the other panelists were making the audience laugh. "If I was giving a speech I would have chosen my words more carefully of course," she writes. But she also stands by her comments and defends her perspective on weight and eating.
In her post, Vodianova reasserts that the modeling industry shouldn't be blamed for people's body-image problems:
I felt angry actually now I think about it. Our industry is scrutinised for giving false image and criteria of beauty and provoking eating disorders however there are other industries that might be even more to blame like food industry that constantly reinventing ways of pushing food on us. Makes people stuff fridges with food, buying pills, millions of books on diets, shopping for the right clothes to hide those extra few pounds, beauty products. I guess some would say that's what makes our economy go around. Yes, I choose to do more and eat less. Sorry world economy, I am a bad client!
And she's right — it's terribly twisted that the diet industry rakes in billions while so many people in the world can't even get a proper meal. She also reiterates her "eat to survive" approach to food, explaining that she grew up so poor that her family often had to skip meals. She concludes:
Back on the topic of discussion I wish I did say at the time, that I assume there is very little Anorexia or Bulimia issues in countries like Africa, China and Russia today!
It's unclear what exactly she means to prove by writing this. (Is it supposed to be a good thing that fewer people have eating disorders in those largely impoverished areas?) Perhaps she means to draw a connection between "eating to survive" and having a healthy relationship with food. In any case, she's right to point out that many people in today's thinness-obsessed developed world have a backwards perspective on the matter.