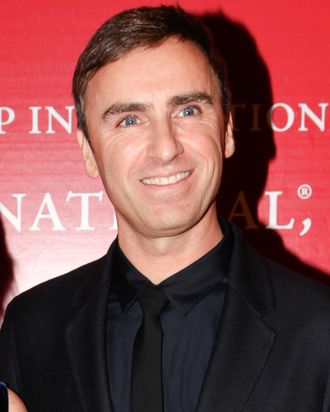 Raf Simons.
Photo: Alexa Hoyer/PatrickMcMullan.com
Well, that settles that. Effective immediately, Raf Simons will be Dior's new artistic director, filling the role John Galliano left vacant since last year. The New York Times broke the news and reports that Dior will make an official announcement on Wednesday. Simons's first collection will walk in July at the haute couture shows, and he "expressed delight at the appointment," telling Cathy Horyn, "The first time I heard about the Dior position, I thought, 'This feels right.'"
Simons's name made its rounds in the Dior Rumor Mill last December and earned the industry's early approval. In a sudden twist, he stepped down from his position as creative director of Jil Sander at the end of February, sparking rumors he was fired, but he must have had the Dior job in the bag all along. Cue the balloons and confetti! Put on a parade! This is one guessing game we're glad has ended.