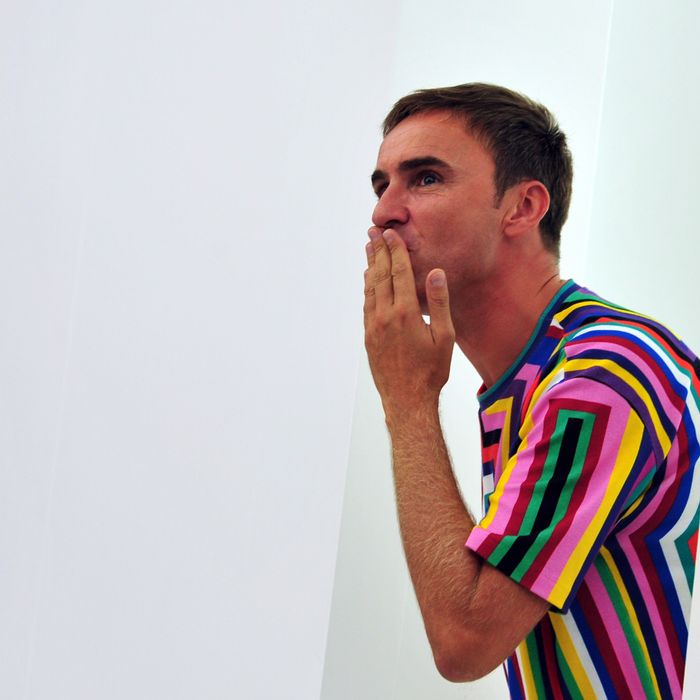 Raf Simons.
Photo: Giuseppe Cacace/AFP/Getty Images
Since his appointment was announced on Monday, Raf Simons has given only a few brief quotes about his vision for Dior. He told the Times' Cathy Horyn that he hadn't even seen the fashion house's archives yet, but he was most interested in "the first 10 years of Dior and how to link that to the 21st century." Surely the biggest question about his new position (well, besides how exactly it came about) is how he plans to marry his famous minimalist aesthetic with Dior's tradition of dramatic femininity.
Simons defends his ability to straddle these two camps in today's WWD:
"I don't think it's wrong to call me a minimalist. It's wrong to call me a minimalist only," noted the Belgian designer, who had been the creative director of Jil Sander in Milan since 2005. "I am also a romantic person."

Indeed, if "purism" was the guiding light and primary inspiration for Simons at Jil Sander, it will be "femininity" at the house of Dior, "because it's beautiful, endless and permanent," he said. "When I'm married to a house, I will fully embrace its original intention, its original heritage and meaning."
He continues:
"I wouldn't go to that place if I only had minimalism in mind," he said. "I'm very aware of what the environment is about."
Simons arrives in Paris today to start working on Dior's winter couture collection, which walks in July and will undoubtedly be one of the most anticipated shows of the year.