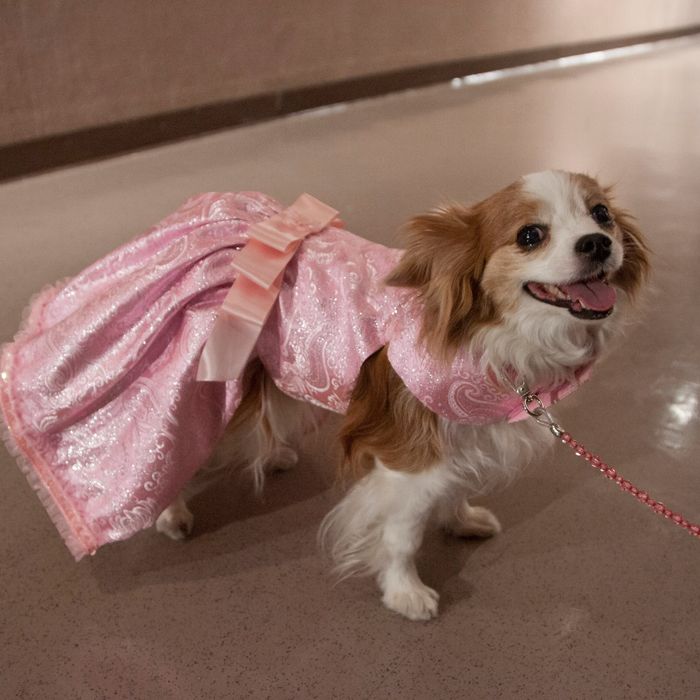 The 4th Annual Pet Fashion Show "Barkinistas Unleashed" by Fashion Institute of Technology students held in the Katie Murphy Amphitheatre at Fashion Institute of Technology on Wednesday April 18, 2012.
Photo: Jennifer Weisbord/?Jennifer Weisbord
"I guess I'm supercalifragisexy, nothing to be playing with," boomed Fergie's voice moments before Phoebe, a shih tzu clothing model, urinated on the runway. Perhaps Phoebe's act of transgression was a tribute to the tiny-bladdered singer — and maybe she was making a statement in support of what Dawn Deisler, the alpha designer of last night's "Barkinistas" dog fashion show and second-time winner of the Best of Fashion award, told me were the traditional pitfalls of dog fashion. "Most dog apparel is too fluffy or costumey," Deisler complained postshow.
It's true that last night's event — a group show from the participants in FIT's professional development certified program in pet product design — was a mixed bag of frills and pomp alongside linear, architectural silhouettes from Deisler, who debuted a python leash-harness-bag trinitae to oohs and ahhs. But the frocks barked for themselves — costumey cape nonsense from Lauren Kmiotek slid off the furry back of at least one of its wearers, while stalwart pieces from Deisler, Canadian star-child Coty Farkas, and punk rock Europhile Adrienne Rock clung to their models with the tenacity of a rottweiler's jaw clenched around a rawhide snack. And speaking of hide, Deisler was sure to mention the natural materials — leather, snakeskin, and other decidedly nonvegan staples — that comprised her work, including a suede coat that bedecked a Newfoundland–size beast, Chewee the Leonberger, who strode down the catwalk with kinglike grace. When it comes to the innovations of the graduating class of dog fashion design, it may be key to do as Phoebe did and listen faithfully to the call of nature.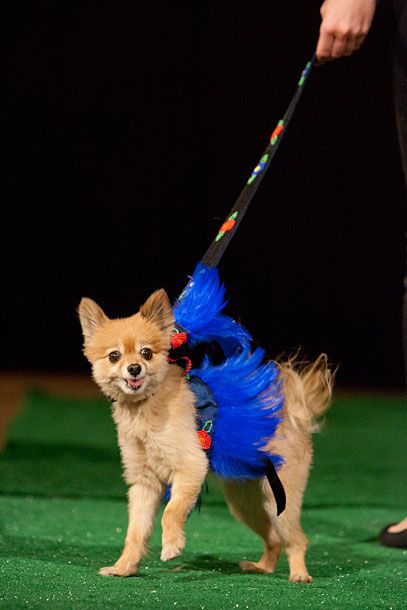 Coty Farkas
Coty Farkas's tribal-inspired leash-harness hybrids were created, she professed, as a "homage to the creativity the sun brings to the moon." Farkas told me she began creating dog apparel after she dressed up her cat, who "didn't like it." Vivi the Pomeranian, on the other hand, seemed to luxuriate in the designer's self-proclaimed "spiritual use of color" and boho practicality.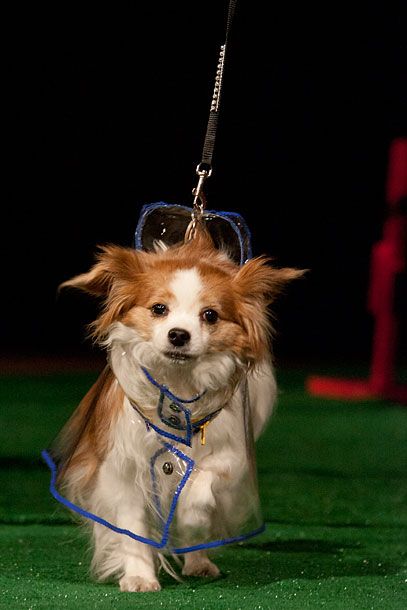 Jiyoung Yoon
Whimsy usually came along with chintz, except in the case of Jiyoung Yoon's witty, transparent rain poncho, modeled here by spring bloom Lily, a Papillion whose bio claimed her passions include "making new friends and playing in the snow." Sounds like Kate Moss in 1998.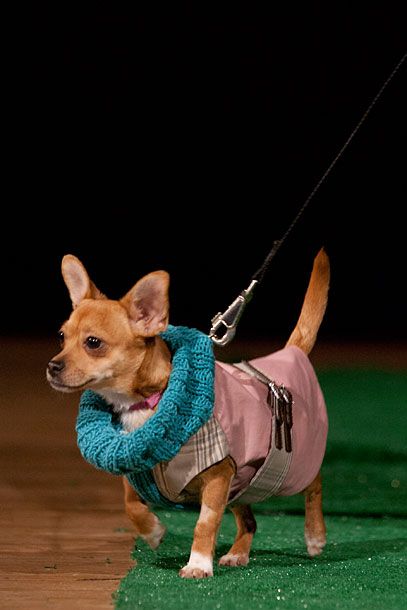 JiYoung Yoon
Swifty, who, according to her bio, will "be your best friend for a nice piece of chicken," modeled this buckle-studded turtleneck harness, designed by promising upstart named Adrienne Rock.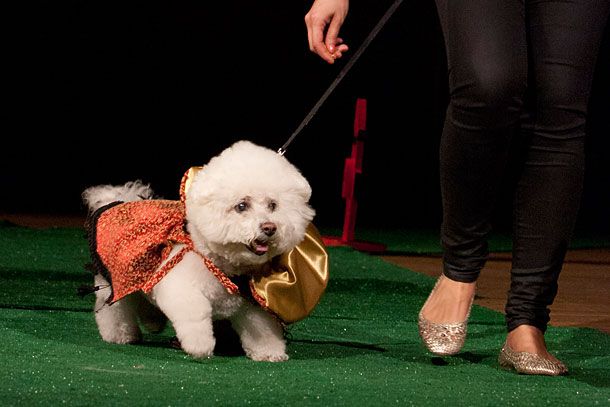 Lauren Kmiotek
Designer Lauren Kmiotek had a hit earlier in the show with a peach and lace black dress modeled by a stunning apricot mini-poodle, but then she erred with this floppy red riding hood coat/cape. The schmatte oozed off the fluff of handsome Cherubino, a recently bark-mitzvah'ed bichon whose mere entrance distracted the smitten audience from the soggy garment he had no business trying to wear.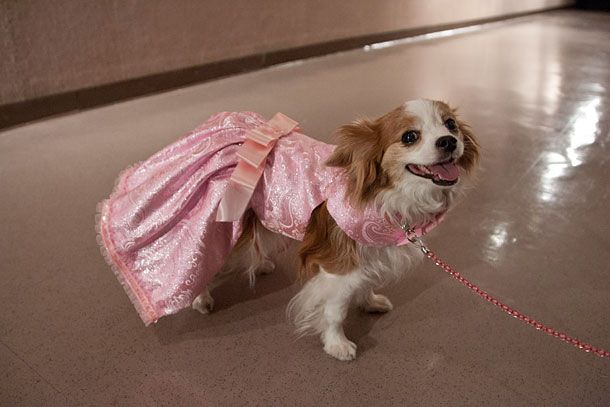 Cheryl Jackson
Fit was everything when it came to the successful prom drama of Quinceañera canine couture. Cheryl Jackson managed to pull off full-blown Disney taffeta on a petite dog like Lily, who seemed all too cheerful to swap a visible tail for a lace-trimmed train. The choker collar did double duty as stylish means of keeping the garment firmly in place, and a derby-tip to Molly Ringwald's DIY Pretty in Pink realness.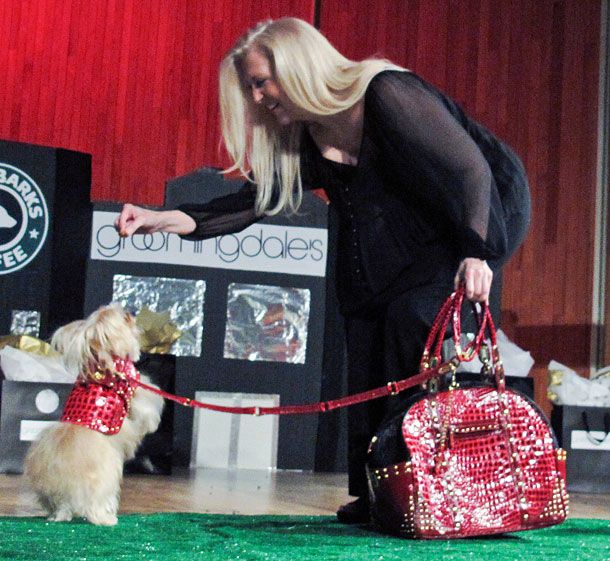 Dawn Deisler
MVP Dawn Deisler wowed the rafters with this red patent leather leash, bag and harness. Puccini the Yorkipoo gave the slick elegance of his jointed tether a well-deserved standing ovation.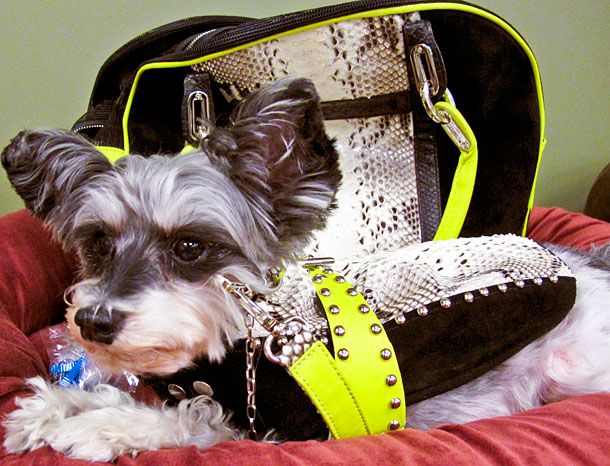 Dawn Deisler
Another Deisler creation in python and neon lamb — modeled by her own dapper Toy Schnauzer, Chappy Fox — takes cues from her favorite European designers (Dolce & Gabbana) and trends from contemporary womenswear.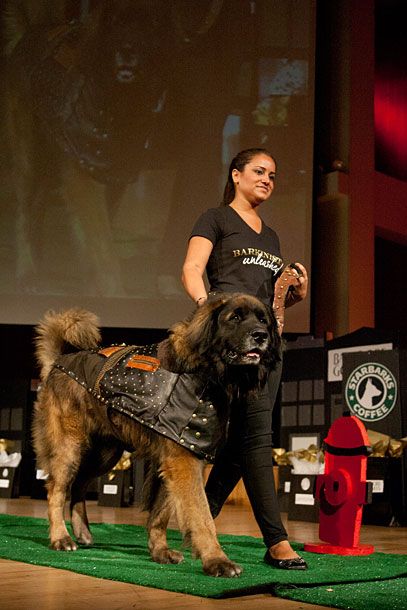 Dawn Deisler
A veritable Watch The Throne of superstar collaborations, here is Dawn Deisler joining forces with breakout canine kahuna Chewee to evoke Tyrion Lannister with this Tom's of Finnish suede leash and coat. While Deisler admitted to me that Chewee — a Beethoven-sized gentle giant who recently starred in a stage production of Annie, didn't really need a coat — her intentions to bring out the "beauty and regalness of the dog" were fully realized in this magnificent display.